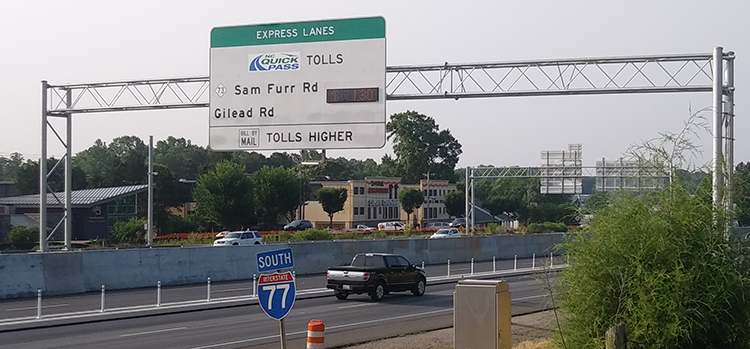 June 3. At 8:30 am Monday, traffic was flowing freely at Exit 28 on down to Westmoreland, while hardly any vehicles were traveling southbound in the Express/Toll lanes. After 3 1/2 years of construction, the first stretch of toll lanes is open on a work day.
The toll lanes are open from Exit 36 in Mooresville to Hambright Road, just south of Exit 23 in Huntersville.
They opened quietly, with no fanfare whatsoever Saturday morning, in contrast to the H. Allen Tate Jr. Highway, a section of I-485, that was dedicated with plenty of fanfare in 2015. Charlotte Mayor Dan Clodfelter was there, as was the head of the Charlotte Chamber, Bob Morgan.
It was a cold day in March when the Allen Tate highway opened four years ago, and cold in a different way for the opening of the Express/Toll lanes on I-77.
Cornelius Town Commissioner Dave Gilroy, one of the early opponents of the $650 million contract with Cintra, said this: "I think we'll all be constantly shaking our heads in frustration at so much unused and underutilized pavement out there."
Mecklenburg County Commissioner Pat Cotham says she will boycott the tolls.
Business, particularly logistics- and manufacturing-related, will migrate south to South Carolina where increased highway access to the critical Charleston ports is a top priority in the Palmetto State, according to former Mecklenburg County Commissioner Jim Puckett.
Meanwhile, people like UNC-Charlotte transportation studies expert David Hartgen say the toll lanes—which don't allow tractor trailers—will actually create more congestion.
Hartgen said the congestion will create a "transportation dead zone" on I-77 north of Charlotte to I-40 between Asheville and Greensboro.
Puckett said the dead zone ultimately will extend north of I-40 to an ever-widening upside-down triangle centered on I-77 and the almost insurmountable congestion from Lake Norman to Charlotte.
At the same time, I-26 in South Carolina will become a "golden corridor" for critical manufacturing jobs, Puckett said.
The rest of Cintra's 26-mile toll lane project is expected to open in September or October. I-77 Mobility Partners is a subsidiary of Spain-based Cintra, which is itself a unit of Ferrovial, where profits from the tolls will ultimately reside.
For the first six months, toll lane customers will get a 25% discount.
"And now, for those trying to get value from the new lanes, the billing errors, chaos and unfairness begins," Gilroy said.