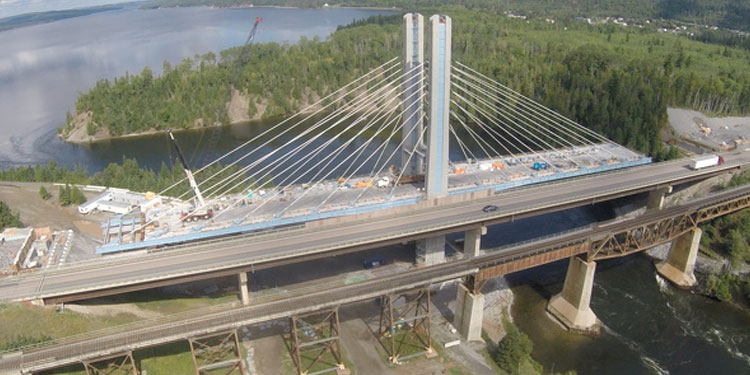 Jan. 25. By Dave Vieser. A newly constructed two-lane bridge in northern Ontario, Canada, which split apart on January 10, was designed and built, in part, by Ferrovial, which owns Cintra, the company building the I-77 toll lanes.  The damage to the Nipigon River Bridge, which carries traffic using the Trans Canadian Highway, was extensive enough to close one lane of the structure indefinitely.
The news was reported in The Toronto Sun, one of Canada's largest daily newspapers.
NCDOT spokeswoman Jordan-Ashley Baker did not comment, nor did Jean Leier, spokeswoman for I-77 Mobility Partners, the company that has begun construction on the $650 million widening project between Charlotte and Lake Norman.
But a Canadian government transportation official did.
"I can confirm that the contractor for the Nipigon River Bridge project is a joint venture between BOT Construction of Canada and Ferrovial, Spain" said Bob Nichols, senior Media Liaison Officer for the Ontario Ministry of Transportation (MTO). According to the Ministry, bolts holding a section of the bridge together snapped off, causing a portion of the bridge to rise approximately two feet. Two independent research labs have begun physical testing of the bolts and MTO officials hope to have both sides of the bridge open by the end of February.
The bridge had been undergoing a $106-million twinning project, the second phase of which had been slated for completion in 2017.
Diane Gilroy, a UNC Charlotte Spanish Professor who has done extensive research into Cintra and Ferrovial projects, was not surprised. "We found that they have been cutting corners on many of their projects, such as using less steel than required," she said.
The bridge is located at an especially crucial point for both passenger and truck traffic on the Trans Canadian Highway, the only road connecting Eastern and Western Canada. Nipigon Mayor Richard Harvey said "this is the one place in Canada where there is only one road, one bridge across the country."
Canadian officials said the average daily traffic on the bridge is roughly 3,500 total vehicles, including approximately 1,300 commercial vehicles. There is no alternative route for motorists, other than a detour through the United States. The closest border crossings are either Sault Ste. Marie, Mich., from the east side of the river, or one of the smaller border crossings in Minnesota on the west side.
Dave Gilroy, a Cornelius town commissioner who is, coincidentally, Dee Gilroy's husband, expressed outrage.
"Time and again, everywhere Cintra/Ferrovial goes in the world, failure, illegality and controversy follows," he said. "This profoundly unethical company continues to add to its miserable global track-record of corruption, bribery of public officials, anti-trust violations, bankruptcies, unsafe practices, below-quality work, contract disputes, and consumer vitriol. We see this from Spain to Afghanistan to Texas to Indiana to Virginia and to Canada. And now our very own public servants at NCDOT have brought them to Lake Norman."
The Toronto Star, the largest daily in Canada, ran an editorial on the bridge failure.