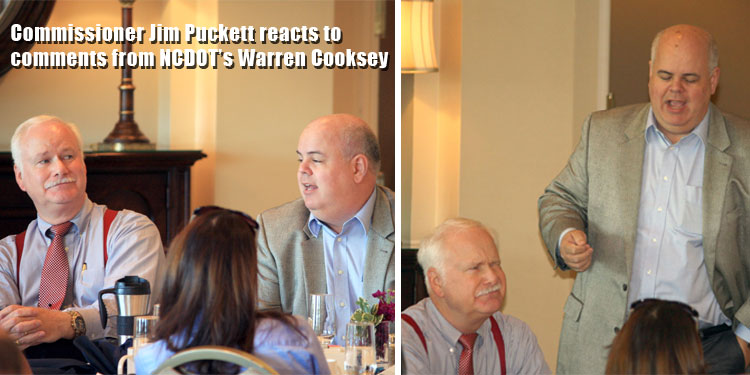 June 16. Like most NCDOT highway projects, it turns out the state did not conduct an economic impact study on the $650 million plan to widen I-77 between Lake Norman and Charlotte with the help of a public-private partnership.
Addressing 75 business people and residents at the Business Today and Cornelius Today Newsmakers Breakfast today at The Peninsula Club, NCDOT's Division 10 Outreach and Community Affairs director Warren Cooksey said, generally speaking, the state will not undertake economic impact studies for big highway projects.
The General Assembly, however, did mandate an economic assessment of ways to improve I-95 a couple of years ago, which was apparently "the one economic assessment of a highway project in North Carolina that I know to exist."
Over the course of the 50-year contract with a company rooted in Spain, the toll plan is expected to cost on the order of $13 billion. Costs vs. benefits have not been examined in a thorough, long-term way, said John R. "Mac" McAlpine, a motorsports engineer who organized the I-77 "Emergency Call to Action" held at Michael Waltrip Raceworld in late May.
Commuters can choose between special toll lanes for speedier trips into Charlotte—which presumably helps the flow of commerce—but large trucks will not be allowed to use them.
McAlpine, who holds undergraduate and masters degrees from Clemson University, collected information already published by the NCDOT as well as information from academia. He said the I-77 managed lanes would develop into a "perfect storm for extremely high tolls."
Mecklenburg County Commissioner Jim Puckett also spoke at the breakfast. He said the county board is likely to pass a resolution tonight seeking to defund the Cintra contract, similar to the one already passed by the Town of Cornelius, but stronger than the ones passed by the town boards in Davidson and Huntersville.
McAlpine and Puckett are working on a bus-in to Raleigh for business owners to express their displeasure with the toll plan.
"The only way the Raleigh folks are going to listen is to make this into a political argument, showing that their re-election hinges on killing this deal. The business community is best structured to make that argument," Puckett said.
McAlpine and Puckett urged business owners to "get involved and stay involved."
That the issue got away from the local business community was not surprising, in light of the brutal economic decline that began in 2008, said John Hettwer, a former Chamber of Commerce chairman and the owner of Cornelius-based Payroll Plus.
Cooksey explained that there were a number of public meetings during which the public private partnership and the concept of toll lanes were outlined.
Gov. Pat McCrory's proposed $3 billion NC Connect bond package—it would fund plenty of new highways but not I-77 widening—seems to have rubbed salt in the wound in Lake Norman. Sen. Jeff Tarte has stated that he will work to defund the Cintra contract—with the moral support of the business community.
Both McAlpine and Puckett took exception to recent statements by the McCrory and NCDOT indicating that it was too late to cancel the deal. MacAlpine said there is a specific termination clause in the contract which could be enacted by either I-77 Mobility Partners or the state.
McAlpine said he would like to see bus loads of business people and their supporters go to Raleigh and confront state representatives and the Governor with petitions opposing the project.
McAlpine said the toll lanes will not alleviate congestion to the extent to which they've been billed. "With the manner in which the access and exit lanes are set up, I envision that over 95 percent of the motorists traveling from Huntersville to Davidson, for example, will be unable to even consider using the new lanes." He feels this will be apply further pressure for I-77 Mobility Partners to apply higher toll rates.
There are penalties in the 900-page contract if there are new roads within the corridor that would compete with the toll lanes.
"The motive for privately owned traffic lanes is to make a profit, unlike general purpose lanes where the primary goal is to move people" McAlpine said. "In its current form, this project has profit written all over it."
McAlpine has started a petition against the project, which may be accessed online at www.I77BusinessPlan.com.
Related: N.C. Senator Jeff Tarte's statement regarding the I-77 Managed Lanes project.