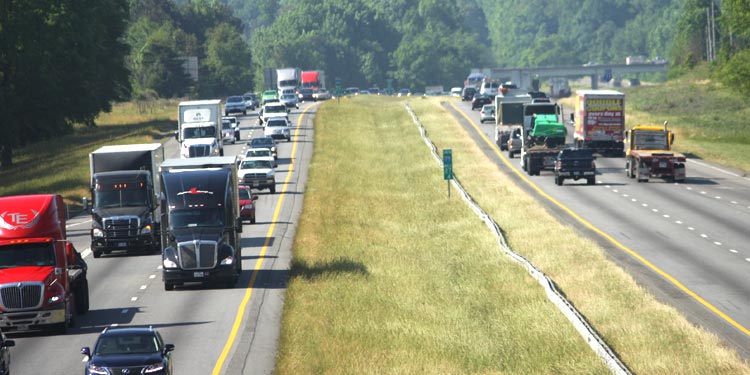 By Dave Yochum. The fight against the plan to widen I-77 with the help of a company whose roots are in Spain continues to escalate, with a lawsuit, another bill in Raleigh and even the threat of legal action against someone who has spoken out against I-77 Mobility partners, the new entity that will build the 26-mile, $650 million project.
Meanwhile, some more recent players in the anti-toll movement who are weighing in against this particular P-3 or public-private partnership are also saying some type of tolling may be appropriate to manage growth-driven congestion on I-77.
From Exit 23 to Exit 36, I-77 functions as a local road for business conducted within Lake Norman.
Business leader John Hettwer, the owner of Payroll Plus at Exit 28 in Cornelius, said he believes Cintra, the company owned by Ferrovial in Spain, has been less than forthcoming around their own business practices.
Here it gets interesting.
Diane "Dee" Gilroy, a Spanish professor at UNC-Charlotte, said she researched Spanish newspaper articles online. She said she found evidence of bribery in Ferrovial's business practices elsewhere, which would apparently negate the possibility of doing business with the NCDOT.
RELATED: Spanish Professor at UNCC-Charlotte speaks out against tolls
Here is part of what she wrote to NC Attorney General Roy Cooper:
"The NCDOT deliberately concealed criminal information and manipulated the outcome of the vote on this toll lane project. Politicians would not have voted for this project if they were aware of all of the criminal proceedings against Ferrovial/Cintra. If this is the case, a criminal investigation into the NCDOT should take place immediately. The entire organization would need to be restructured  and top individuals should be removed from the NCDOT. Criminal hearings against NCDOT officials should take place."
Of course, former NC Transportation Secretary Tony Tata resigned last month, rather "abruptly," according to NC Rep. John Bradford, a Republican from Cornelius.
I-77 Mobility partners is less than thrilled with Ms. Gilroy, whose husband, Dave, is a prominent businessman in his own right—Scale Finance—and the first member of the Cornelius Town Board to cry wolf on the Cintra deal.
Cintra sent this statement to Business Today:
"The allegations of systematic corruption made in the letter from Ms. Diane Gilroy dated July 12, 2015 are absolutely and categorically false," said Patrick Rhode, United States Vice President of Corporate Affairs for Ferrovial. "Furthermore, we have fully complied with all of the various disclosure requirements throughout the multiple-year procurement process for the I-77 project.  As a result of the severity and falseness of these allegations, we feel compelled to consider all appropriate legal action in respect of this matter."
The statement was provided by the director of corporate affairs for I77 Mobility Partners, Jean Leier.
The issue is on the NCDOT's radar. Spokesperson Jordan Baker said this:
"At this time NCDOT believes that I-77 Mobility Partners and all affiliated companies accurately completed all forms and fully disclosed all items in the I-77 Express Lanes contract process."
The I-77 Express Lanes project was unanimously approved and requested by the local transportation planning organization. NCDOT says it is delivering the project that local planners developed, recommended and still support, along with the Charlotte Chamber of Commerce, "based upon the fact that this project will offer drivers more choices for reliable travel time, and help manage traffic on one of the state's most congested corridors for people and freight."
Of course, many local businesses, including the Lake Norman Chamber, want to stop this particular P3 plan in its tracks. For one thing, it prevents easy on-off between the toll lanes and Catawba Avenue in Cornelius, which has been dubbed the "Main Street" of Lake Norman by members of the Lake Norman chamber.
Under the agreement with Cintra/Ferrovial, NCDOT is investing $95 million directly in the I-77 Express Lanes project, and an additional $145 million in "bonus" transportation projects for a total $240 million investment in the region.
The estimated cost of adding simple general purpose lanes from where the bottleneck begins south of Exit 23 to Mooresville was only $100 million. Of course, with growth, they would likely fill to capacity in a matter of a few years, so tolls, in theory, actually do manage congestion.
But Cintra/Ferovial P-3's have had their share of difficulties. The Commonwealth of Virginia will write off $260 million paid to another Cintra undertaking—US 460 Mobility Partners.  And in Indiana, ITR Concession Co. LLC filed for Chapter 11 protection in U.S. Bankruptcy Court in Chicago. ITR is also controlled by Ferrovial and an Australian investment bank.
Hettwer says the $100 million figure that has been cited as the cost of canceling the Cintra deal here was pulled from thin air. "It could be zero," he said, pointing to the possibility of incorrect documents underlying the NCDOT contract.
Meanwhile, people like Hettwer, WidenI-77 founder Kurt Naas, who has doggedly fought the Cintra plan for three years, Mecklenburg County Commissioner Jim Puckett and anti-toll leader John "Mac" McAlpine V are meeting on a regular basis to map battle strategies in what has morphed from a citizen war to a business war against the Cintra/Ferrovial-NCDOT plan.
On the legislative front, Bradford is running a floor amendment in the NC House that would redirect monies from Gov. McCrory's  proposed transportation bond package to terminate the current contract with Cintra and install general purpose lanes from Exit 23 to 36.
David Hartgen, a retired professor of transportation at UNC-Charlotte, says the negative economic impact over the life of the 50-year contract with Cintra is devastating. He pegs it at $30 billion, in terms of lost opportunity, and negative impacts on real estate values when the cost of doing business is lower outside of Lake Norman.
As reported in Business Today in June, there was no economic impact study done on the I-77 toll plan.