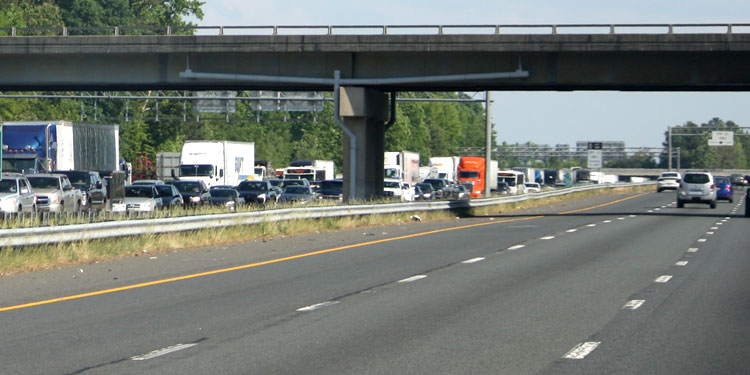 June 23. By Dave Yochum. The Lake Norman Chamber of Commerce will officially come out against the plan to widen I-77 with toll lanes and a 50-year contract with a company whose roots are in Spain.
The chamber's resolution, passed by its board of directors last night, requests that the contract with I-77 Mobility Partners be terminated. It also goes on to ask that the state look for "alternative funding" sources to pay for widening I-77 north of Charlotte, in Lake Norman.
The chamber is expected to announce its position today.
PRESS RELEASE: Lake Norman Chamber of Commerce urges State to cancel Toll Road Contract
The cost is estimated to be on the order of $100 million, but the 900-page contract between the NCDOT and I-77 Mobility Partners is worth on the order of $650 million.
The chamber's request in essence provides support and backing for NC Sen. Jeff Tarte's and NC Rep. John Bradford's efforts to defund the contract with a Texas-based unit of Cintra, the Spanish company that is owned by Grupo Ferrovial in Madrid, Spain.
The chamber's new position—for a number of years its position on the tolls has been as close to neutral as possible—is based on a survey of roughly 1,000 members.
About 20 percent responded to the survey which was launched last week. A source said 94 percent said they were opposed to the high occupancy toll lanes.
It turns out the state did not conduct an economic impact study on the $650 million plan to widen I-77 between Lake Norman and Charlotte with the help of a public-private partnership.
NCDOT's Division 10 Outreach and Community Affairs director Warren Cooksey said, generally speaking, the state will not undertake economic impact studies for big highway projects.
The General Assembly, however, did mandate an economic assessment of ways to improve I-95 a couple of years ago, which was apparently "the one economic assessment of a highway project in North Carolina that I know to exist."
Over the course of the 50-year contract with a company rooted in Spain, the toll plan is expected to cost on the order of $13 billion.
Costs vs. benefits have not been examined in a thorough, long-term way, said John R. "Mac" McAlpine, a motorsports engineer who organized the I-77 "Emergency Call to Action" held at Michael Waltrip Raceworld in late May.
Commuters can choose between special toll lanes for speedier trips into Charlotte—which presumably helps the flow of commerce—but large trucks will not be allowed to use them.