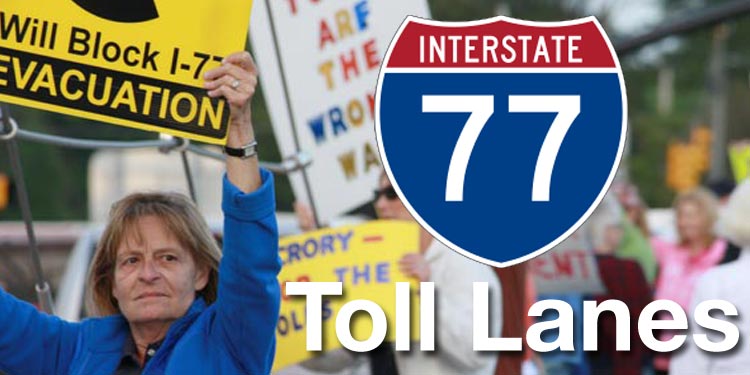 April 12. By Dave Yochum. Yogi Berra said it, Lenny Kravitz sang it and the Lake Norman business and political community really seems to mean it: It ain't over till it's over. We're talking about the epic fight to somehow undo the blundering, 50-year, 900-page NCDOT contract that turns a chunk of I-77 over to a company whose roots and business practices are in Spain.
A forum for elected officials called "Averting an Economic Crisis" will be held April 18 at the Charles Mack Center in Mooresville. It's by invitation only, extended by Iredell County Commissioner Jeff McNeely and Mecklenburg County Commissioner Jim Puckett.
Both are members of the Charlotte Regional Transportation Planning Organization and the NCDOT I-77 Advisory Group, which is looking for ways to change or even cancel the $650 million contract with Cintra, a unit of Madrid-based Ferrovial.
The invitation from McNeely and Puckett says the toll plan as configured will have a "$34 billion negative impact on our region's economy."
Speakers include Russ Rogerson, the economic development czar of Iredell County, as well as Wallace Everett, a supply chain authority, and Dr. David Hartgen, a transportation expert who retired as a professor of transportation studies at UNCC.
He is the US co-editor of the academic journal Transportation.
In a 2015 interview with Business Today, he said the toll plan limits development and retail growth, most likely in Mooresville and to a lesser extent, in Statesville.
Indeed, the motorsports community, which is entrenched in Mooresville, was an early opponent of the toll plan, which, as configured, does little to reduce congestion on I-77.
The anti-toll fight began in earnest at the "Emergency Call to Action" at the now-closed Michael Waltrip Raceworld in 2015.
The late mayor of Cornelius, Wes Southern, attended.
"If we don't do anything but turn the NCDOT upside down, that's worth it for my children and grandchildren," he said.
The invitation from McNeely and Puckett was sent to elected officials, candidates for office and community leaders. 
"The more people that become aware of the negative economic  impacts of the toll road, not only on the Lake Norman region, but on the broader region, [the more] we will gain support of elected officials…should there be any adjustments made to the toll contract," said Huntersville Mayor John Aneralla, an early opponent of the toll plan.
It seems like even the NCDOT is aware of how big a blunder this particular toll plan is.
Puckett, who met with NC Trnsportation Secretary Trogden last week, said the state is still "very actively" looking at options to modify or cancel the contract. "Finishing the construction is the only viable option at this time, then dealing with how to go forward and as far as I am concerned moving forward has to have the asset (I-77) in the hands of NCDOT not Cintra," Puckett said.
"So many tears we've cried
So much pain inside
But baby it ain't over 'til it's over, over"
                               —Lenny Kravitz