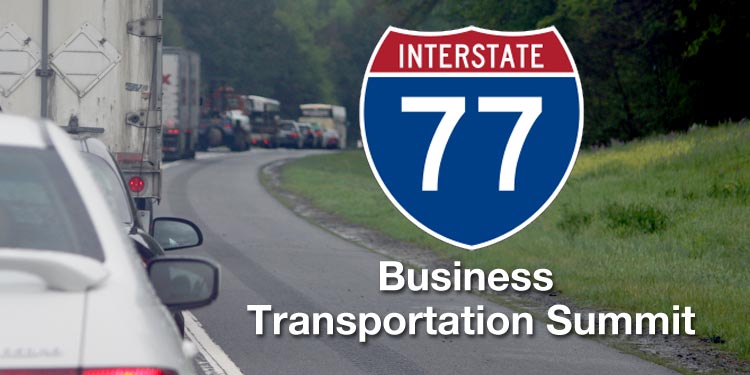 ANALYSIS. May 26. An "I-77 Business Transportation Summit" will be held at Michael Waltrip Racing at 4 pm Thursday. The hosts are power brokers in the Lake Norman business, tourism and economic scene: Larry Johns, chief financial officer of Michael Waltrip Racing in Cornelius, and Richard Zulman, CEO of  BestCo, formerly BestSweet, a major employer in Mooresville.The business leaders are stirring mightily amidst a public hue and cry over plans to widen I-77 with tolls—witness the 3,500-member Exit 28 Ridiculousness Facebook page—and an almost deafening silence from the Lake Norman Chamber.
In an email to Cornelius Today, the summit organizers said "North Carolina businesses have been delivered a non-workable transportation solution on I-77."
They said the plan to widen I-77 between Lake Norman and Charlotte with tolls and a company from Spain "does not meet our basic transportation needs today, or any day in our future. In fact we fear it will worsen our situation, leaves us with little relief and nothing but bad choices going forward."
Business owners who want to attend the summit should rsvp to this email address: [email protected].
The Lake Norman Chamber's position up till
now has been a "non-position" one chamber director said.
But Lake Norman Chamber President Bill Russell argued that the chamber is "very very involved" in the I-77 issue. While he told chamber members as recently as last week that tolls are a "done deal," the chamber appears to be scrambling to catch up with opinions widely held in the business community.
Denis Bilodeau, a highly respected insurance executive who has also declared his candidacy for the Cornelius Town Commission, has been reappointed to the chamber board and will chair the vacant public policy division. Meanwhile, Callan Bryan, an attorney, has been tapped for the chamber chairmanship next year after another attorney, Bill Ellison, resigned from the chamber board in light of his new duties as a corporate attorney at Lowe's headquarters in Mooresville.
One former chamber director lamented that influential small business owners in Lake Norman have passed the baton at the chamber to mid-level types whose "pockets are not impacted by transportation and may be hesitant to be vocal."
"The days of Charles Knox, Gary Knox, John Cherry, David Christenbury, Scott Lawrence, Scott Hinkle and Richard Terry are gone," another former director said, referring to leaders in years gone by.
Politics on the Town Board took a turn last week.
Scale Finance founder Dave Gilroy, the one member of the Cornelius Town Commission who has been the most vocal opponent of the I-77 toll plan, apparently has the support to invite Widen I-77 anti-toll activist, Concord businessman Kurt Naas, to present his case to the Town Commission sometime in June.
Mayor Chuck Travis has not budged from his early support of the toll plan, which was based on what was said to be no other alternatives at the time. It takes three votes to get such a presentation on the town board agenda. Gilroy openly challenged the mayor's leadership at the public meeting one week ago.
Widen I-77, of course, is suing to stop the toll plan. Whether Cornelius might somehow join the suit is the question of the day. Mayor Travis could not be reached for comment.
The Waltrip summit organizers said "a different direction is needed for growth and prosperity" for businesses and citizens in North Carolina.
More than 97 percent of respondents to an online poll conducted by Cornelius Today and Business Today said the NCDOT is not "operating with transparency, integrity and in the best interest of our citizens."
"We resolve there has been a failure in communication between local government, citizens and the NCDOT. This is our chance to correct that miscommunication with a loud and clear message to the North Carolina General Assembly and Gov. Pat McCrory."
The summit organizers went on to say: "We resolve that it is not too late to reach the best solution."
Mecklenburg County Commissioner Jim Puckett and NC Sen. Jeff Tarte are expected to attend.
"From this transportation summit a clear plan of action will be laid out that will ensure growth and prosperity for all North Carolina Businesses and Citizens. We will agree to deliver this message as a collective voice from the business community," the summit organizers said in an email to Cornelius Today.
Russell, in a telephone interview today, said he found out about the summit on Saturday. "The likelihood of this stopping at this point is not likely," he said earlier today.
Members of the business community have signed a petition opposing the toll plan. They include:
Jim Engel, CEO of Aquesta Bank
Vincent Cline, CFO of Joe Gibbs racing
Greg Wallace, GM of Rusty Wallace Incorporated
Jerry Freeze, Front Row Motorsports
Kelley Earnhardt Miller of JR Motorsports
Scott Lampe, CFO of Hendrick Motorsports
John Hondros, SVP of Suntrust bank
Brad Bowman, President of First Federal Properties
Shannon Hilton, CFO of Carolina Beverage Corporation
Sandra McAlpine, Partner/Owner of Re/Max Executive
Creigh Hill, President of Southern Homes of the Carolinas
Jayme DeBot, CFO of DeboTech
Mike Croake, GM of Reilly Technologies
Todd Mory, President of Techmor
Chris Cheney, SM of The Decal Source
Primrose Academy
Judy Greenspan Cole, Owner of Lake Norman Learning Center
Angelo Lorousso Owner of Sir Cleans A Lot
Dick McKean, Partner of Lake Norman infinity
Wayne Turner, Partner of Turner and Turner CPAs
Marcus Ford, Owner of Black Paws Transport
Randy Waugh, President of Lucky dog Bark and Brew