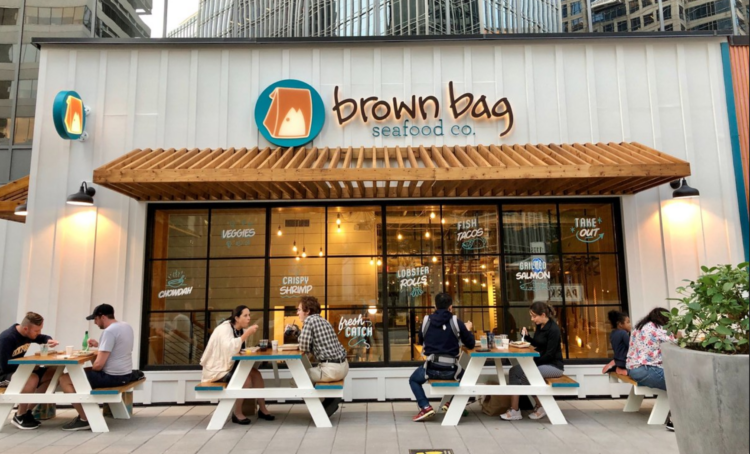 Dec. 16. Four new tenants, including a seafood restaurant, are coming to Birkdale Village in Huntersville.
Apricot Lane, Brown Bag Seafood Co., Girl Supply and Lovesac will open early next year.
Background
North American Properties is repositioning and updating the mixed-use project with a new array of stores as well as a new paint scheme and a plaza area adjacent to the central fountain, between Starbuck's and Dressler's.
Apricot Lane: The women's fashion franchise will open in February, with women's apparel, jewelry, handbags, accessories and gifts. Apricot Lane at Birkdale Village will be owned and operated by Huntersville residents Georgina and Leah Susswell, a mother-daughter duo with backgrounds in financial services and retail.
Brown Bag Seafood Co.: Established in Chicago in 2014 by restauranteur Donna Lee, the concept serves healthy, affordable and responsibly sourced seafood in a fast-casual setting. The premium counter-service eatery offers a "design your own" ordering process featuring a wide variety of seafood.
Girl Supply: From the founders of Girl Tribe Co. and Girl Tribe Pop-Up, Girl Supply is the next step in the vision of co-founders Sarah Baucom and Carrie Barker to create yet an innovative retail environment that supports women-owned businesses exclusively. Girl Supply will also open in February.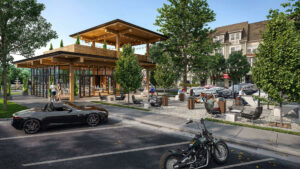 Lovesac: The company designs, manufactures, and sells unique, high-quality furniture that's guaranteed for life. It offers modular couches called Sactionals and premium foam beanbag chairs called Sacs, as well as home décor and home audio.
Birkdale's grand plan
The goal is to transform Birkdale Village into a one-stop shop, offering visitors access to the best in dining, fashion, home goods, self-care and everything in between.
NAP is planning a 6,000-square-foot plaza with soft seating, a covered stage and a 16-by-20 LED screen.
The redevelopment includes a major change in the full round-about at the fountain: The segment between Dressler's and Starbuck's will close in favor of a more pedestrian-friendly plaza. The Huntersville Town Board is expected to approve what's called an abandonment of that section of the road in January.
Optimistic about brick and mortar retail
"We're feeling very optimistic headed into the new year and can't wait to welcome these new brands to The Village," said Adam Schwegman, partner and senior vice president of leasing at NAP.
NAP's vision is to bring more experiential retailers to the center, keeping smaller-format retail stores, chef-driven restaurants and pop-up shops top of mind. This year the team has already executed leases with Buttermilk Sky Pie Shop, prestige omni-retailer Sephora, Kendra Scott and Green Brothers Juice Co., which is slated to open next spring.