Oct. 26. The makeover at Birkdale Village continues with a new paint scheme and plans to make the 52-acre project a go-to "third place" or community gathering space taking shape between now and next summer.
Sociologist Ray Oldenburg says a third place is where people spend time between home and work—our first and second places. They are locations where we exchange ideas and build relationships.
Indeed, Cincinnati-based North American Properties and Nuveen Real Estate are planning a 6,000-square-foot plaza with soft seating, a covered stage and a 16-by-20 LED screen.
It will be located in the existing green space between Chico's and Sunglass Hut. Plans include closing a portion of the central roundabout, eliminating the full-circle movement around the fountain.
There will be a full-service valet and concierge providing reservation assistance, directions and complimentary beverages as well as public restrooms.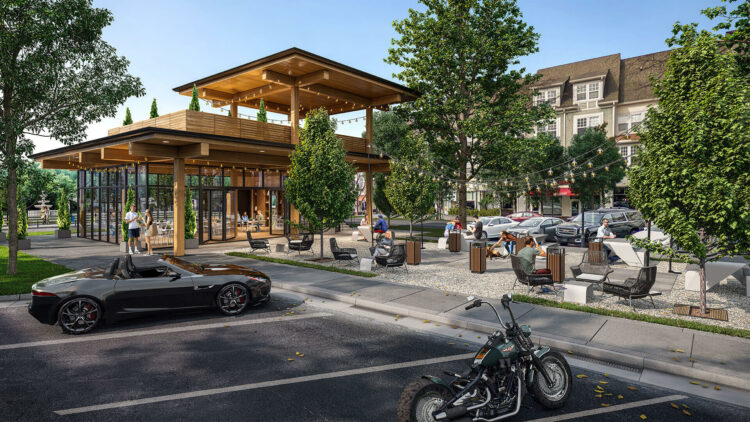 "Jewel" boxes
The plaza also will be home to two standalone "retail jewel boxes." The jewel boxes and "tiny retail pods" are designed to resonate with innovative retail and restaurant brands aiming to provide a unique and engaging experience.
The 1,200-square-foot floor-to-ceiling glass structures will be surrounded by soft seating and offer shopping and indoor dining on the ground floor, with plans for rooftop patios as well.
A third jewel box will also be added to greenspace near the Regal cinemas, along with four tiny retail pods. The 200-square-foot pods will feature a mid-century design with offerings from merchandisers and food vendors on shorter-term leases.
"Throughout our portfolio we have seen smaller, freestanding retail buildings not only perform very well, but also out-punch their size in terms of creating the community environment we promote," said Adam Schwegman, partner and senior vice president of leasing at NAP.
"Activate" retail
Throughout the development apartment steps will be rebuilt so they come straight out, rather than to either side of a stoop.
The change will help NAP "activate" adjacent storefronts that were partially covered by steps.
NAP will break ground on the project this winter, with construction slated for completion late spring 2022.