Feb. 27. By TL Bernthal
Summit Coffee
Summit Coffee is adding three locations soon, including one on North Main Street in Cornelius, just down the road from its basecamp at 128 S. Main St., Davidson.
Summit confirmed the Cornelius location is about a block north of  the Food Lion shopping strip at 20239 N.Main St. The other two new spots are in the Charlotte neighborhoods of Eastover and Ballantyne.
A source at Summit says the Cornelius location could open by the end of summer, if not the end of the second quarter, then the beginning of the third.
The three new shops —that's a 30 percent increase in the number of  locations —will join the 10 coffee shops in Asheville, Charlotte, Davidson and Roswell, Ga. Closer to home are franchises in Mooresville and Huntersville.
Summit is also updating its website and adding a couple of new products. But that's hush-hush for now. The new products will be announced when the website is updated in March.
The Waterman Fish Bar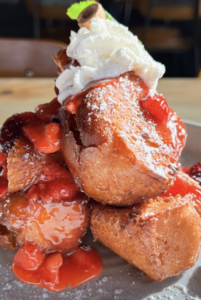 What's new? Brunch is now available 11am – 3 pm weekends.
The menu includes a Sausage & Salmon Hash for $15; Creole Shrimp & Grits, $24; Lobster Bene, $19; and Chicken & Waffles, $17. Eggs, biscuits, home fries and more are available as well.
Boat Drinks, available all day, include a Shipwrecked Mary, Brunch Punch with rum and  blue curaçao, and an espresso martini.
The restaurant at 9615 Bailey Rd., Cornelius, will take reservations.
—The restaurant also is hosting a low country boil fundraising supporting Bags of Hope.
Get oysters, shrimp, sausage, corn and potatoes (all steamed)  1-5 pm Saturday, March 11.
Advance tickets are $50 for all you can eat; $60 at the door. There'll be seafood, music and more. Tickets do not include alcohol, but drinks will be available for purchase a la carte.
Prosciutto's Pizzeria, Pub & Restaurant
What's new? The menu  was redesigned.
Owner Joel Pfyffer said he created a five-wing and fries option when prices for chicken exploded.
The restaurant is at 20920 Torrence Chapel Road, Cornelius.
In case, you're catching up:
—Dressler's and Red Rocks Cafe both renewed leases at Birkdale Village.
— Handel's Ice Cream is on schedule for a mid-March opening.
— Main Street Bakery & Coffee, 19905 W Catawba Ave.  Suite 105 in Johnsbury Square, is open with a grand opening planned for the March 4 weekend. See full story in print edition coming out March 3.
— Cheesecake Factory and more coming to Birkdale Village.
—Kilted Buffalo in Birkdale plans to re-open in March, but road construction may delay that.
— Tropicana will move into Kat's Seafood restaurant.
—On the Roxx is moving to larger space in the Lakeshore Marketplace on West Catawba.
— Bin 110, 19712 One Norman Blvd. Suite 110, Cornelius, will be taking a two-month hiatus, starting in March, to renovate and expand before re-opening this spring.
—Piper's at Galway Hooker has new owners who plan to revnovate and re-open.