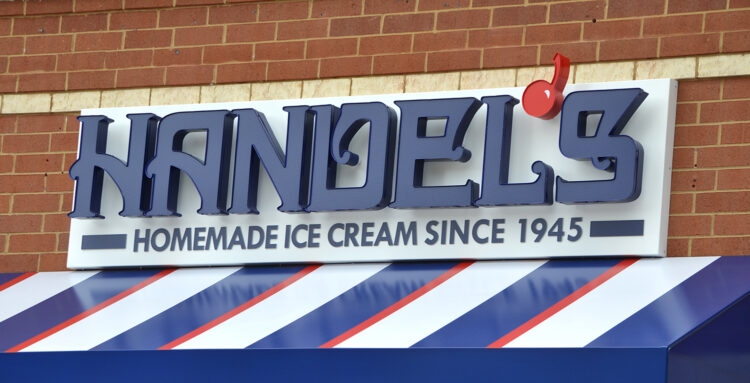 Feb. 23. By TL Bernthal. The opening date for the new Handel's homemade ice cream franchise in Cornelius should be March 16, delayed by almost three months because of construction setbacks.
Pam Alatalo, the operations manager, says that once the plumbing and electrical inspections are complete, the floor can installed—all part of the process to get a certificate of occupancy that will allow the store to open at 20545 Torrence Chapel Road in the Shops at The Fresh Market.
The original opening date for the 1,500-square -foot parlor was delayed to Dec. 22, then mid-February and now to March. 16.
Once there is an opening date, Alatalo says she can start hiring scoopers/cashiers, shift leaders and ice cream makers. She expects to hire 20-25 people part-time and has about a dozen people already interested. Scoopers must be at least 16 years old and workers must be 18 years old for the other positions.
Owners
Three men who are friends are the owners of the local franchise: John Gowdy, a Fort Mill radiologist who serves as the operating partner; Matt Field, president / CFO of CCBank in Provo, Utah; and Clayton Leonard, attorney in Henderson, Nev.
Gowdy and Field were childhood friends and college roommates. Leonard and Gowdy played rugby together in college.
They hired Alatalo of Mooresville to handle the day-to-day business operations along with hiring and payroll, for example. Alatalo, who has a degree in  business management, spent 10 days in November training in Ohio, where Handel's is based.
Why Cornelius?
Gowdy says they explored multiple locations around Charlotte, and there were many things that they considered.
"We were excited by Cornelius due to its proximity to I-77, Lake Norman and to Davidson College," Gowdy says.
"Cornelius is a vibrant, growing, family-based community. It is a goal of ours to be involved as much as possible in supporting local schools, organizations and events.
"We also wanted to find a location surrounded by strong shops and restaurants where families, friends and neighbors could spend quality time together and enjoy delicious ice cream in the process," Gowdy says.
Their introduction to Handel's
Gowdy first became aware of Handel's when he was completing medical training in Ohio.
"We had one right down the street from us. I saw that people were lined up outside and thought, we've got to try this out," Gowdy says.
"We nearly became religious in our consumption of Handel's from that day on, buying a couple of pints weekly for date night," he says.
Leonard went to law school in Ohio where he and his family were introduced to Handel's.
Field and his family first had Handel's in 2012 when he visited Ohio. Handel's made its way to Utah a couple years ago and Field quickly became a regular.
"We really didn't consider any other franchises," Gowdy says.
"Since moving away from Ohio, it has been a dream of mine to open a Handel's someday. I was thrilled when I learned they were franchising in the Carolinas," Gowdy says.
Gowdy and his family have been living in the Charlotte area for almost four years now and are here to stay, he says.
"We each have so many wonderful memories enjoying the ice cream with our friends and families," Gowdy says. "It doesn't feel like a chain, but rather that of a local old-fashion ice cream shop."
Flavors & franchise requirements
The local ice cream parlor will have 48 flavors at all times, as required, including 20 that are always offered such as butter pecan, vanilla, chocolate and strawberry, Alatalo says. Seasonal recipes will be offered, of course.
Alatalo says the local parlor will have more than the required one choice of sugar-free, and at least one or more dairy-free and vegan choices. The vegan choices are limited right now, but Handel's is developing more, she says.
The location is in a shopping center with a yoga studio and a fitness center, "so I'm assuming we'll have more healthy choices," she says.
Still, Handel's has all varieties of chocolate.
Some of Gowdy's favorite chocolate-based ice creams are French Silk Pie, Chocolate Cake Batter, Chocoholic Chunk, and Midnight Madness.
"I also love coconut as well, which pairs very well with chocolate. Coconut Cream Pie and Coconut Caramel Delight are two of my favorites," Gowdy says.
Field's favorite is Midnight Madness (dark chocolate with peanut butter Oreos and peanut butter ripple).
Leonard's favorite is Graham Central Station (Graham flavored ice cream with a graham ripple and chocolate covered crunchies).
According to the Handel's website, a Handel's Ice Cream franchise has approximate start-up costs of $263,500 to $865,000.
Ongoing royalties are 6 percent of gross sales paid monthly as franchise fees.
The grand opening will be on a Thursday, as all Handel's openings are. The day before is a soft opening for friends and family, Alatalo says.