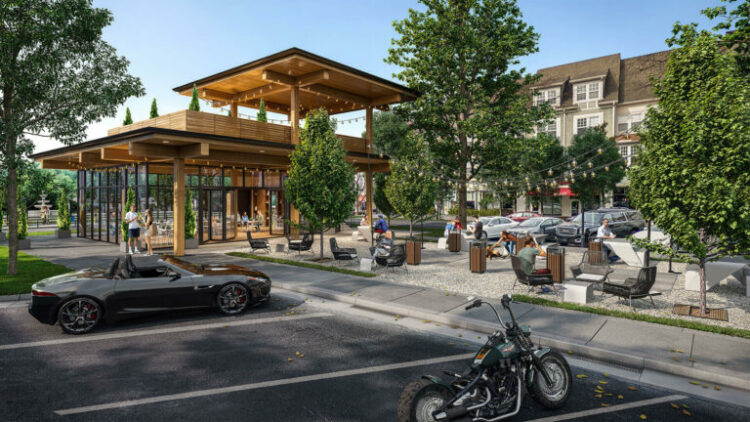 Jan. 27. North American Properties' $20 million redevelopment of Birkdale Village is under way in earnest. The owners of the 52-acre mixed-use project—the retail centerpiece of Lake Norman—officially began work yesterday on plans to create a 21st century community gathering place and a new retail experience.
No more full circle
The trademark circle or roundabout at the center of the complex will be modified to increase walkability and enhance green space and gathering places. The full-circle movement around the fountain will go away with the small segment between Dressler's and Starbucks closing for good.
Construction is expected to be completed by the summer.
There will be upscale outdoor lounge areas, a full-service concierge and valet as well as new retail and dining offerings. There will be a 6,000-square-foot plaza with soft seating, a covered stage and a 16-by-20 LED screen.
It will be located in the existing green space between Chico's/Starbucks and Sunglass Hut/Dressler's.
Entrepreneurial shops are welcome
The plaza also will be home to small standalone retail structures for specialized retail and restaurant space.
Owner North American Properties plans three standalone "jewel boxes" with 1,200 square feet and four 200-square-foot pods for micro-preneurs.
The fountain will be redone and updated with LED lights.
A 'third place'
Look for smaller improvements as well. NAP is reconfiguring steps to the upstairs apartments so that they come straight out, rather than to either side of a stoop.
The change will help NAP "activate" adjacent storefronts that were partially covered by steps.
It's part of making Birkdale Village a "third place" where there's a sense of community that Facebook and Instagram don't provide, NAP officials say.
Sociologist Ray Oldenburg says a third place is where people spend time between home and work—our first and second places. They are locations where we exchange ideas, have a good time and build relationships.
And spend our money.