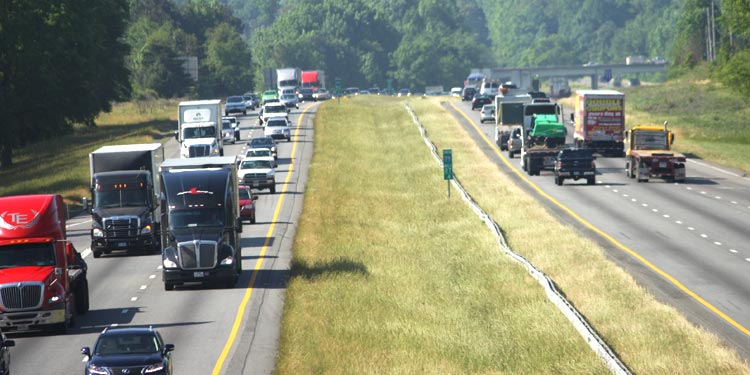 It's been an interesting news period these past few months. The I-77 toll battle has turned into a full-fledged citizen movement with the business community climbing on in earnest in May, thanks in large part to John "Mac" McAlpine V, a racing industry engineer in Cornelius. (Yes, his family is the McAlpine in the McAlpine Creek in Charlotte.)
I'll be the first (well, maybe the second) to admit that I once thought tolls were the best way to widen I-77 any time soon in light of fiscal restraints in Raleigh. I no longer believe that. For one thing, more and more questions about our would-be partner are coming to light based on Google searches of news overseas. For another thing, the NCDOT has shown its true colors time after time, and they aren't very flattering.
Meanwhile, the governor's proposed $3 billion NC Connect bond deal shows that the state does in fact have borrowing capacity for infrastructure.
It's not far fetched to say that some businesses will move away from Lake Norman if the toll plans move ahead. Anything delivery-related will suffer. Employees will have higher living expenses, less expendable cash. The toll plan seems perfect for those high-dollar consultants.
NCDOT community outreach director Warren Cooksey asked me for the margin of error after Business Today's online poll showed 97 percent of the people who responded do not believe NCDOT  is "operating with transparency, integrity and in the best interest of our citizens." I interpret his question as either darkly funny or dismissive of the people who pay his salary.
At the Cornelius Town Board meeting June 1, Cooksey discounted the town board's vote. When asked about it, he said: "This doesn't matter." In a way, Cooksey was agreeing with what Commissioner Gilroy said: This is symbolic.
Well, it does matter. The Town Board voted unanimously to denounce the 50-year contract with Cintra. Meanwhile, politicians like Sen. Jeff Tarte and Rep. John Bradford have seen the light.
Despite public outcry and resolutions from six  county and muncipal boards, not to mention delays on Cintra's part, the NCDOT plunged ahead with the contract signing. This, in a region known for declaring its independence from England before the rest of the 13 colonies did.
Sen. Jeff Tarte, who says he will work to defund the Cintra deal, says, "This is a long shot. Twelve people do not have credibility in Raleigh…it shows the region may not be worried. What you have to do is understand the power of numbers."
RELATED: Sen. Jeff Tarte's press release regarding the bill to defund the I-77 toll lane contract
"It can't be just residents. What we have to do if we really want to do this, you need to push the governor, the secretary of transportation and all of the electeds into the corner. It has to be the businesses. We are the economic engine that drives the state. The businesses need to rally around it," he said.
But the real hero here is Concord businessman Kurt Naas. He, and a loyal group of followers pushed an opposition effort up hills, through swamps and over stern objections of people who backed the tolls. To their credit, some of them stuck to their guns, too, even though the playing field changed, i.e., the state finances, a philosophical but not practical view of tolls and the governor's bond proposal.
Naas and his crew stayed the course. When asked how it feels to be hailed after being demonized, he said: "I'm gratified that our leadership and the community has rallied around this. It's getting late in the game so we need to work even harder to stop this terrible project from becoming a reality."
He also said there is absolutely no reason to celebrate. Plenty of work lies ahead, and the effort to stop the tolls may fail.
"I wasn't out there alone. We've had a dedicated group. We're not consultants who parachute in and leave. We live here. We care about our community. This project is so egregious it would be criminal if we stopped fighting it," Naas said.
Changes in the project "as well as the recent announcement of alternative methods of financing unavailable when first conceived, make the current toll project untenable for the economic future of our region," said Mecklenburg County Commissioner Jim Puckett.
"This is our last chance," he said.
At Business Today, we agree with Puckett, and support the efforts of Naas, McAlpine, Tarte and Bradford.