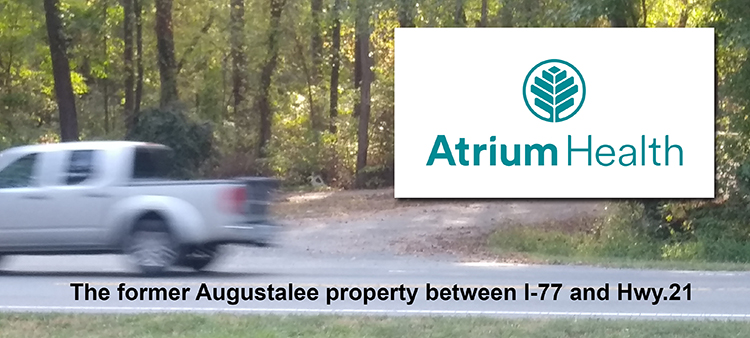 Oct. 21. By Dave Yochum. Atrium Health has filed an initial application with the North Carolina Division of Health Service Regulation for a Certificate of Need to build a 30-bed acute care hospital in North Mecklenburg. The facility, which will be in Cornelius, would include two operating rooms.
Atrium, which has the Augustalee site in Cornelius under contract for an undisclosed amount, plans a major medical development with an adjacent mixed-use project comprising residential, offices and retail, according to reliable sources in the real estate community.
Business Today reported back in June that the Augustalee site—a crown jewel in the world of economic development—was under contract.
The sale price and buyer were not expected to be disclosed until after a 150-day due diligence period was completed.
The timing, as November approaches, is right. Atrium confirmed they plan a Cornelius facility that, if approved by the state, would open in early 2023.
Formerly Carolinas Health, Atrium has 40 hospitals and 900 care locations, including major acute care facilities in Concord and in Charlotte.
It's a shot across the bow of Novant, which has dominated the North Meck medical facility scene since the opening of Novant Health Huntersville Medical Center some 15 years ago.
Novant Huntersville opened with 50 acute care beds; it now has 139 beds at Exit 23 on I-77.
If a new hospital were to make it through North Carolina's Certificate of Need process, a Cornelius location makes sense because there are existing hospitals in Mooresville and in Huntersville.
"Massive growth in this area is going to necessitate that we have another hospital," said former NC Sen. Jeff Tarte, a respected authority on the business of healthcare and a former Cornelius mayor. "Acute care community care hospitals are the bedrock of health care in the United States," he said.
"Having an Atrium facility here would be incredible," said Tarte, whose wife Dr. Nancy Tarte is affiliated with Atrium
The Augustalee site itself is incredible. With lengthy frontage on I-77, the site is about midway between Lake Norman Regional at Exit 33 and Novant Huntersville at Exit 23.
The 110-acre Augustalee property was on the market at $22 million earlier this year. It's one of the old Cook family farms.
A Scottsdale, Ariz., developer called Bromont set Lake Norman on its collective ear when it paid $34 million for the farm back in 2006-2007.
Plans then called for a 1.4 million-square-foot mixed-use project dubbed The Village at Lake Norman in Cornelius. It would have competed with Birkdale to the west on Hwy. 73, and LangTree in Mooresville, which had equally ambitious plans before the real estate market fell apart.
The Village morphed into the lyrically named Augustalee, and became the talk of the economic development world. Walt Rector, the founder of Bromont, had plans for a $40 million exit off Interstate 77. The proposal would have relied on government grants generated by the increased tax revenue the project could generate.
Augustalee is still bucolic property, with coveted exposure on I-77 between Exit 25 and Exit 28.
While a new Exit 27 is not part of NCDOT planning, the Town of Cornelius is working with Kimley-Horn design consultants on the development of an Interchange Access Report—necessary to obtain approval from Federal Highway Administration and NCDOT for an overpass.