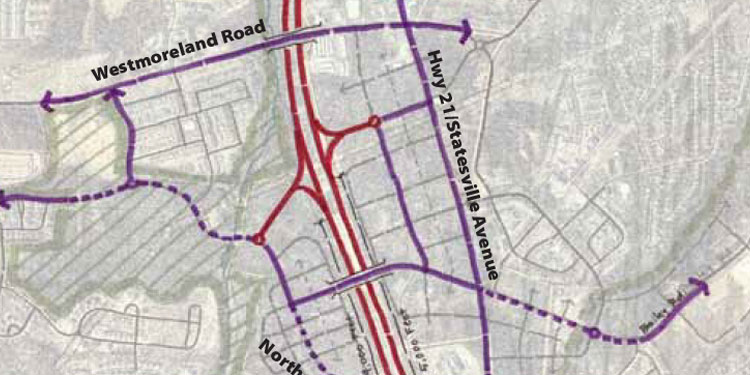 By Dave Yochum. An Urban Land Institute study is calling for a new type of interchange around Westmoreland Road on I-77 near the Augustalee and Cooke properties.
Mike Griffin, a member of the Lake Norman Economic Development board, will discuss the Exit 27 proposal at the Newsmakers Breakfast Wednesday, Nov. 18 at The Peninsula Club. To RSVP, call 704-895-1335.
"The panel believes the new interchange could afford a significant branding opportunity for Cornelius. The plan provides the best chance to do something really exciting and visually compelling and to create significant development spaces. This is the best chance for Cornelius to get it right," the 25-page report says.
The key to opening up both sites is not just a new exit, but a design that places on and off ramps south of Westmoreland Road and north of a proposed Bailey Road extension flyover bridge. Importantly, it would also connect to an extension of Northcross Drive from Huntersville into the Cooke family property.
The concept for a new interchange is called the "Cornelius Square." It would create a signature gateway to Cornelius, according to the ULI study, which was put together by Kathleen Rose, a development expert from Davidson, and Ed McKinney, interim planning director for Charlotte-Mecklenburg Planning Department.
Developer and real estate broker Charles Knox of The Knox Group in Huntersville said the lower cost basis for the new owners of Augustalee means it "may be possible to pull off something akin to what the ULI report envisions."
The plan emphasizes Class A office, hotel and retail.
"I think targeting corporate users like MSC in Davidson would be key to the project's success. Cornelius has too much small retail space already along Catawba to support much more unless it was highly freeway traffic targeted in my opinion," Knox said.
He said his biggest concern is losing an east-west connection over I-77 that is not clogged with commercial office and retail traffic. "Having the Westmoreland overpass allows east and west movement much easier than over the other two bridges. Losing this would be a mistake in my opinion from a congestion point of view," he said.
Of course, who will fund a new interchange is an open question. Cornelius officials plan to travel to Raleigh to seek funding. They also hope to improve the balance commercial vs. residential properties. More than 80 percent of the town's budget is borne by residential taxpayers.
"Because of the small amount of developable land available, doing development right on both the former Augustalee and the Cooke Sites is critical," the ULI report says.
Veteran Town Commissioner Dave Gilroy said a new Exit 27 will offload traffic from Catawba and Exit 28. Gordon Allebach, founder of G Brokerage on West Catawba Avenue, said he "welcomes increasing the accessibility by adding Exit 27."
He said Lake Norman also would benefit from a new full-service hotel. But he said the impact on existing business is unknown. "The stronger day and after-work population, with the new office space, would likely help the retail and restaurant businesses," Allebach said.
"A full-service hotel will not compete with our limited service hotels but would instead pull from Charlotte's hotels and compete with the new full-service hotel coming to Langtree at Exit 31," he said.