July 12. The North Carolina D​ept. o​​f Health ​& Human Services has approved a Certificate of Need​ request from Atrium Health to build a 30-bed acute care hospital on the former Augustalee property between Hwy. 21 and I-77. "Atrium Health Lake Norman" could be up and running in early 2024.
The $154 million facility, which would bring hundreds of new jobs to Cornelius, was at first turned down by NCDHHS, but the decision was appealed by Atrium which purchased the site ​for $20 million.
The large healthcare chain is also planning a major medical development with an adjacent mixed-use project comprising residential, offices and retail, according to sources in the real estate community.
The Cornelius Planning Board will consider a separate rezoning request from Atrium on July 21 which would permit the construction of a two-story medical office building near the future intersection of Bailey Road extension and Hwy. 21. This would be just south of the proposed new hospital.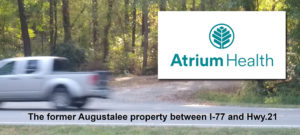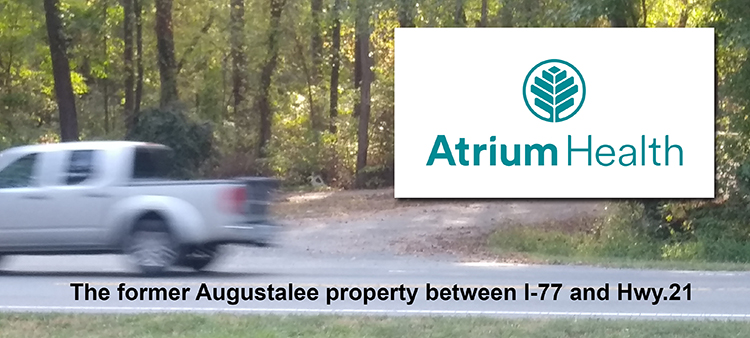 The new hospital will be built at the southwest corner of the intersection of Westmoreland Road and Hwy. 21.
"With the population growth that has been taking place, this new hospital is a key piece of our mission to better meet the needs of residents in the area," said Ken Haynes, president of the Greater Charlotte Region for Atrium Health.
Novant Health Huntersville Medical Center at Exit 23 has 139 beds. Lake Norman Regional Medical Center at Exit 33 in Mooresville has 123 beds.
Certificates of Need
The Certificate of Need (CON) process helps prevent costly over-building and duplication of equipment, leading to higher healthcare costs.
The CON process occurs in numerous states that require reviews and approvals before new health-care facilities are constructed.
The central idea of CON legislation is the assertion that overbuilding and redundancy in health-care facilities leads to higher health-care costs.
At a glance: Atrium Health Lake Norman
—Thirty licensed acute care beds
—Twenty medical/surgical acute care beds
—Six maternity suites
—Four intensive care unit beds
—Eight observation beds
—Two operating rooms, plus a C-section operating room
—Eight emergency department bays – including two for trauma cases – open 24/7, and a helipad
Imaging services, including
—MRI
—Nuclear medicine
—Laboratory services
—Pharmacy services
NCDHHS initially declined the health system's application to build the facility, but agreed to allow Atrium Health to move forward after additional information was made available as part of an appeal process settlement that resolved the matter.