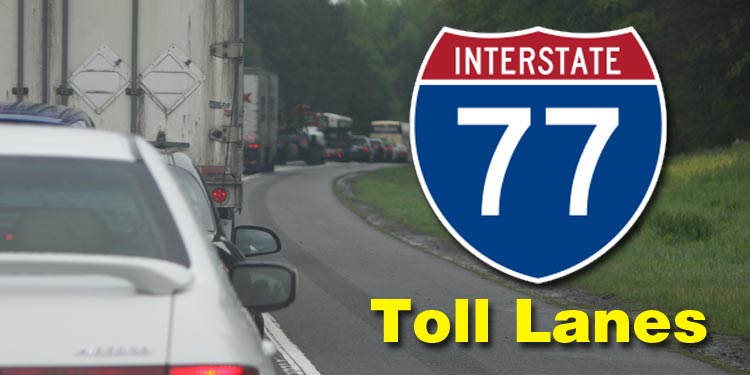 May 1. NC Rep. John Bradford, the former town commissioner who called a "time out" prior to the initial I-77 agreements with Cintra last year, says he wants to meet with NCDOT officials to discuss what appears to be a changed playing field around the toll plan.
"We actually tried to meet this week," he said. "I have several questions about the NC Connect project vs. what we were told about tolling."
Gov. Pat McCrory unveiled a "Connect NC" $3 billion bond package in April. It did not include funds for widening I-77 between Lake Norman and Charlotte—a divisive issue that has helped drive wedges in the Republican party in North Mecklenburg.
At 4:30 pm today one-time party stalwarts as well as ordinary citizens are expected to protest the plans to toll I-77 on the Exit 28 bridge. Notices and messages on Facebook indicate that at least 50 protestors will show up.
There are no plans to close the bridge, and Cornelius Police will take a low-key approach as people exercise their rights to freedom of speech and assembly.
That said, an email yesterday from Assistant Town Manager Andrew Grant to commissioners revealed questions and confusion around details of the Cintra contract as they pertain to potential highway improvements along the I-77 corridor.
Meanwhile, Cornelius Town Commissioner Dave Gilroy, the owner of a financial services company, has circulated a proposed resolution that could be read at Monday night's Town Board meeting.
He sent this to commissioners, the mayor, Sen. Jeff Tarte, Bradford, town staff and the public email file:
"Gentlemen, given Andrew Grant's revelational news below, the questions raised in the attached memo to NC's Treasurer, and all the press out there on Cintra's projects elsewhere in the country (link below is just one example), who will join me in voting for a Cornelius resolution to delay Financial Close for 90 days in order to enable an independent audit of NCDOT's contract? May be purely symbolic at this point, but very, very important to be clearly on the record in my view."
It looks like Gilroy could have three votes for a time-out. Commissioners Bruce Trimbur and Thurman Ross did not respond to inquiries from Cornelius Today.
Mayor Pro Tem Woody Washam responded this way: "Really need more review to get to the bottom of the matter.  What I know at this point is very concerning to me.
Commissioner Jim Duke said: "We are going to have to huddle on this one, but I am likely to support Dave.  Need to know where the Mayor stands as well as our other political leaders."
The mayor could not be reached. Still, Cornelius is just part of the equation. Tarte, Bradford, and others have to join in the call for a time out. There may not be time given the momentum around the DOT plan.
Dr. Michael Miltich, a candidate for Town Board in 2013, said assumptions have changed from when plans for a Public Private Partnership to widen I-77 with the help of tolls and a private company were first announced.
"We're being told one thing but as we get closer to this contract it doesn't seem to be what they said," Miltich stated.
Statewide ranking criteria for highway projects was one of the things that changed. "We need to have legislation to re-rank this project under the new criteria. They refused to do that as it was already funded by tolls," Miltich said.
In an email, Gilroy said the DOT has taken on a life of its own.
"It is unlikely that anything can help at this point, given the bureaucracy's momentum," he said.
Cintra has been less than transparent, too, Gilroy said.
"Cintra has demonstrated clever schemes of getting their equity back in the early years of other projects around the country (e.g. Indiana, Texas), before the tax-payer guaranteed debt is paid back," Gilroy said.
The financial close for the project is set for mid-May.
Some small businesses are diving in. "No Toll" car magnets are on sale at The Acropolis, Lucky Dog Bark And Brew and The Range on Bailey Road.