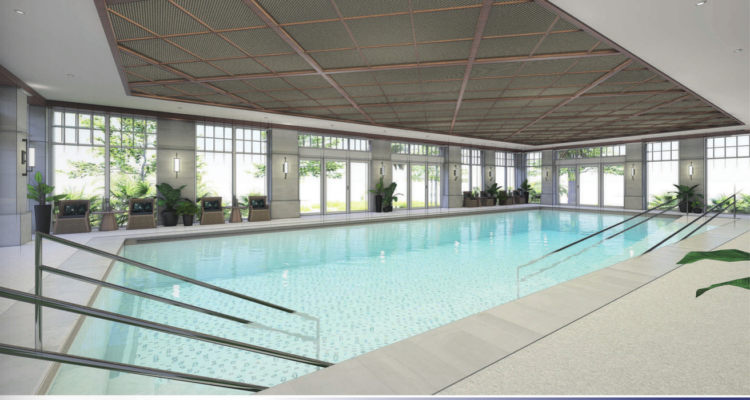 May 23. When Cornelius developer Jake Palillo was looking at the landscape for a new project, he researched the 76 million Baby Boomers who were coming to retirement age and looking to downsize.
The question was how to create a community to meet these new housing market needs and what would be successful.
The answer was developing an age restricted active senior living resort, one with comfortable ranch style homes and lots of activities available.
Research showed after retirement people wanted to move and be close to their children and grandchildren and moved to a new area. It's also a very active lifestyle for mature adults who have retired or are empty-nesters.
With the first of the Baby Boomers now in their mid 70s and the tail-end now turning 60,  the demand for seniors projects is exploding. The need for more upscale senior projects are coming to places like the new Alexander Farms mixed-use development, which includes senior housing as well.
New lifestyle
The seed for the Bailey's Glen community was planted on Bailey Road in Cornelius in 2009 and continues to grow. Palillo is owner of South Creek Construction, and his goal has always been to build one of the best retirement communities in smart, new ways.
Bailey's Glen is an active adult resort-style community developed by Bill and Ericka Cain with Palillo, the managing partner and builder.
"It has activity directors, lots of clubs, activities and fun every day," Palillo says. "When you move in, you meet people with the same common goals and create instant friendships."
Active is an understatement. The community has two activities directors, one to plan activities within the development and a second to arrange outings to Charlotte and nearby areas.
There are clubs for just about every interest, pickle ball courts, tennis courts, pool, craft center and a woodworking shop. So many clubs meet at the clubhouse that it's hard to find an open time to book a space for something else. Palillo says he is building two more clubhouses to fill that need.   
"It's like being on vacation everyday and you never have to pack your suitcase to go home, Palillo says.
The next phase
"Some Bailey's Glen residents have lived there for 10 plus years, and too often we get a community announcement of someone passing. Many came to Bailey's as a couple to enjoy the best years of their life.
"Bill Cain would often visit me on Saturday morning to tour the progress of the community and there was no greater joy than seeing people outside, throughout the community enjoying life.
"Bill would always say 'It's nice to build businesses and make money, but there is something different about Bailey's, the joy of seeing people enjoying the best years of their life that we created means more.' "
As people age, many start to look for the next phase in their life and many look to move for less maintenance than a single-family home, Palillo says. This may be to an apartment or senior living care community.
Symphony Park
Palillo is building Symphony Park on 35 acres in Huntersville with that new lifestyle in mind for residents ready for independent living. These seniors — usually in their mid-70s to 80s or possibly 90 — don't need assisted living or memory care but want less to manage.
He is re-defining independent living. Palillo calls it a new lifestyle. He's getting rid of the "dinosaur" model that requires big non-refundable entry fees, for example.
Luxury apartments at Symphony Park will be rented month-to-month with no long-term contract, he says. The apartments should be ready in about 18 months.
They come with all the  activities and amenities that residents need and they won't have to go outside the complex for a service, Palillo says.
The complex in Huntersville will be "like a Disney resort," Palillo says, with three restaurants, two bars, a convenience store, hair salon and spa, medical vendor, car transportation, woodworking shop, pool and fitness/aerobic room and a lot more.
Rents are expected to be $5,000 to $6,500 a month, including housekeeping, utilities and food allowances.  One monthly fee and everything is included.
"It'll be like living at the Ritz Carlton, " Palillo says.
Development is under way with a leasing office on Rich Hatchet Road and Statesville Avenue opening soon.
Symphony will have assisted services so residents can age in place. A medical vendor will have offices on property to offer assisted services who could arrange help with medications or occupational or physical therapy, if needed.
Apartments will have big windows to provide a lot of natural light. Each will have a full kitchen.
There will be the most advanced technology for safety and to keep family and friends connected.
Siri or Alexa virtual assistants can be used to set reminders for tasks, read texts or emails, and play music, for example.
The virtual assistant can be set up on voice command and everything will go through the TV.  You can also ask a myriad of questions on movie trivia, history or whatever, or be told a joke.
One feature Palillo especially likes is the television in the apartment that, with the resident's permission, can be linked to a family member's home. The family member can turn on the TV and see how their parent or grandparent is doing.  If a resident can't be reached, the family member can check in and see if there's a problem.  A resident can say "call my daughter" or "call my grandchildren" and the system will dial them up and they appear life size on the TV, giving residents the feeling they are there in the apartment visiting with them.