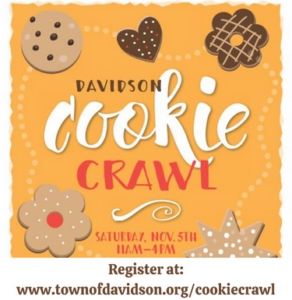 Oct. 10. The Town of Davidson will hold its seventh annual Cookie Crawl as an effort to introduce residents and visitors to Davidson businesses, kick off the holiday shopping season and support our local retailers.
On Saturday, Nov. 5 from 11 am to 4 pm, more than 20 Davidson businesses will hand out freshly-baked, pre-packaged cookies to passport holders. To participate, please purchase a ticket for $20 online.
A maximum of 150 tickets will be sold, and each ticket guarantees one cookie per location.
On Nov. 5, check in at the table in front of the Village Store at 110 S. Main St., Davidson, to pick up your passport and cookie collection bag. The passport will include a list of all participating businesses and a map. Participants who have not pre-paid before Nov. 5 can pay at the table while supplies last.