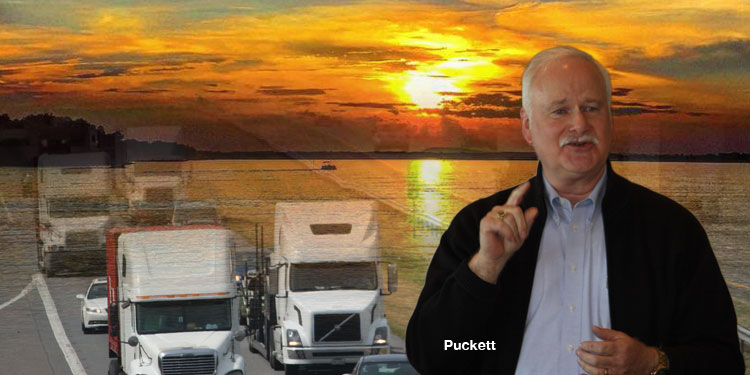 Aug. 24. By Dave Vieser. Mecklenburg County Commissioner Jim Puckett has given NCDOT Secretary Nick Tennyson and Attorney General Roy Cooper a heads up around the culverts that connect Lake Norman with Lake Davidson and Lake Cornelius.
Writes Puckett: The culverts could fail anywhere from 25 years from now to 50 years from now. The NCDOT-Cintra contract has a 50-year term.
"This means they could potentially approach failure midway through the fifty-year contract with Cintra," Puckett writes.
In a letter to the officials dated Aug. 23, Puckett asks who would be responsible for performing and paying for new culverts should they fail during the contract.
Tennyson responded to Puckett, the North Mecklenburg representative on the County Commission, this way: "I'll ask appropriate staff to review the hypothetical questions posted in this message and provide a response to you as we are able to do so." In spite of the classic bureaucratic non-response, America's infrastructure is falling apart. Highways and bridges built during and after the Eisenhower years are at or near the end of their useful life.
The Lake Norman Marine Commission says the existing culverts have an estimated life span of 75 to 100 years. They were installed when the Catawba River was dammed 50 years ago.
Puckett's correspondence is interesting in an election year: He wants information from both Tennyson, who works for incumbent Gov. Pat McCrory, and from Roy Cooper, who is running against him.
"My many years of dealing with contractors and the government have taught me that unless the specifics are clearly laid out ahead of time and agreed to by all concerned the public pays the price," Puckett writes. "I am writing on behalf of the hundreds of thousands of citizens I represent and the millions that will travel across these culverts in the next few decades. Just who will be responsible for replacing and paying for the culvert replacement should they need replacing during the current contract timeframe?"
He also asked whether the state requires any bonding to ensure that funds are available should this safety matter arise. "What is the written and verified plan should the test and/or inspections determine replacement is needed?"
"And, if the State is responsible, will this disruption trigger a 'compensation event' that would require NC to pay Cintra for lost revenue due to the construction," Puckett asked.
Puckett's letter requests that someone from the NCDOT and/or the attorney general's office "please let us know how this situation will be handled?"
Lake Davidson straddles the Mecklenburg/Iredell county line along the I77 corridor and is approximately 341 acres. It is in the Catawba-Wateree watershed and is a part of Lake Norman via a culvert below I77. Lake Norman totals approximately 32,475 acres. Lake Cornelius lies to the south of Lake Davidson and is approximately 125 acres.