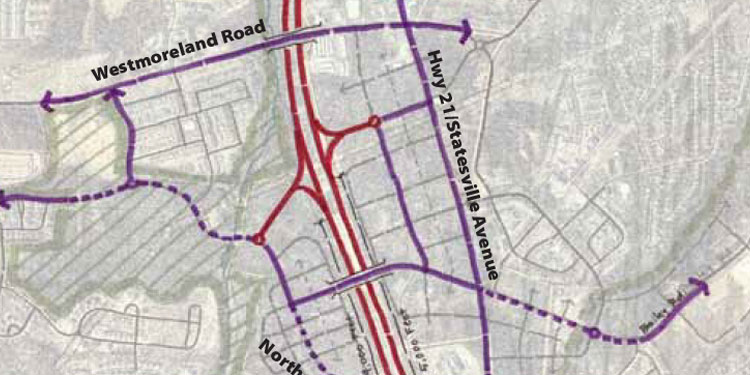 An Urban Land Institute study that calls for a new type of interchange around Westmoreland Road on I-77 near the Augustalee and Cooke properties will be the subject of the Newsmakers Breakfast Wednesday morning with Mike Griffin, a member of the Lake Norman Economic Development board.
A new kind of interchange would "afford a significant branding opportunity for Cornelius," according to the Urban Land Institute, which completed the study at the request of the EDC.
RELATED: Lake Norman Economic Development Corporation Exit 27 Study
Griffin will field questions during a Business Today/Cornelius Today Newsmakers Breakfast at The Peninsula Club. The event, which starts at 7:30 am and includes a full country breakfast, costs $12 to attend. There will be a Toys for Tots box provided by the Marine Corps. Call 704-895-1335 to RSVP, with a credit card number.
The Exit 27 plan provides the "best chance to do something really exciting and visually compelling and to create significant development spaces. This is the best chance for Cornelius to get it right," the ULI's 25-page report says. The ULI is a nonprofit research and education organization that focuses on the responsible use of land and prosperous communities.
The ULI report says the key to opening up both sites is not just a new exit, but a totally new design that places on and off ramps south of Westmoreland Road and north of a proposed Bailey Road extension flyover bridge. Importantly, it would also connect to an extension of Northcross Drive from Huntersville into the Cooke family property.
The concept for a new interchange is called the "Cornelius Square." It would create a signature gateway to Cornelius, according to the ULI study, which was put together by Kathleen Rose, a development expert from Davidson, and Ed McKinney, interim planning director for Charlotte-Mecklenburg Planning Department.
Developer and real estate broker Charles Knox of The Knox Group in Huntersville said the lower cost basis for the new owners of Augustalee means it "may be possible to pull off something akin to what the ULI report envisions."
The plan emphasizes Class A office, hotel and retail.
The Newsmakers Breakfast is sponsored by The Knox Group, Donna Moffett Accountants and Consultants and Davidson Wealth Management.
Doors open at 7:15 am. The event concludes at 9 am.