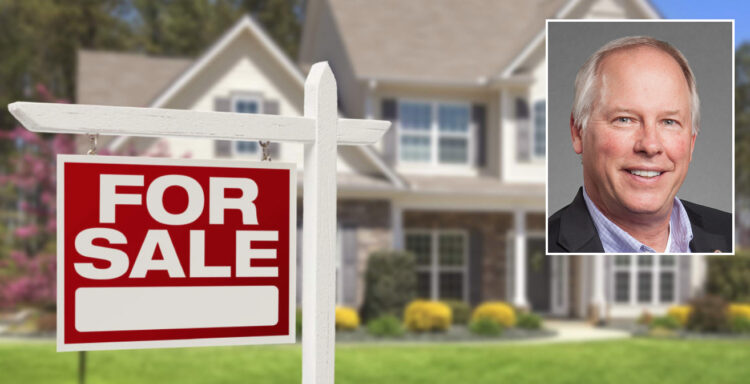 Sept. 7. By Dave Yochum. It was only natural that home sales slowed down in July. The pandemic and resulting lockdowns during the spring market last year brought sales to a halt and pushed activity into June and July making comparisons  to this year almost meaningless.
In Cornelius, days on market has fallen from 45 days in July last year to 16 this year. Inventory has fallen from 115 homes on the market to 54. Months' supply is down by more than half.
The median sales price, $396,250 in Cornelius, was up 9.5 percent July over July.
We asked Pat Riley, CEO of Allen Tate, for his take on the residential market.
Where are we in the cycle?
Riley: The economic/inflationary cycle and the real estate cycle, while tied together by interest rates, are separate questions. Last year, appreciation rates for our area (Charlotte region) and much of the Carolinas was 9.3 percent and for the sixth year in a row, well above the historic 3.8 percent norm. For 2021, year to date is 12.32 percent, which is unprecedented.
Does this suggest a real estate bubble? 
Riley: No. In the Carolinas, we have a steady stream of family and corporate in-migration. Add to that a lack of new construction inventory. The average sale price in the Charlotte region is $344,000, which is a bargain compared to much of the country, and taxes are very low compared to other areas. We are not in a bubble situation.
Will appreciation rates begin to trail downward? 
Riley: Appreciation rates will fall only when inventory levels climb.
What can trigger a climb?
Riley: An increase in builder inventory would be a solution, but I don't see that happening for a few years. A recession would also push inventory up. If the Federal Reserve determines that inflation is out of control, interest rates could be raised to curb inflation. I believe that we are in an inflationary cycle and that within 18 months to two years, we will see an increase in interest rates and a recession of about 18 months.
What would the interest rate need to be in order to slow the economy?
Riley: That's a big question. Currently, 65 percent of U.S. homeowners have an interest rate under 4 percent.