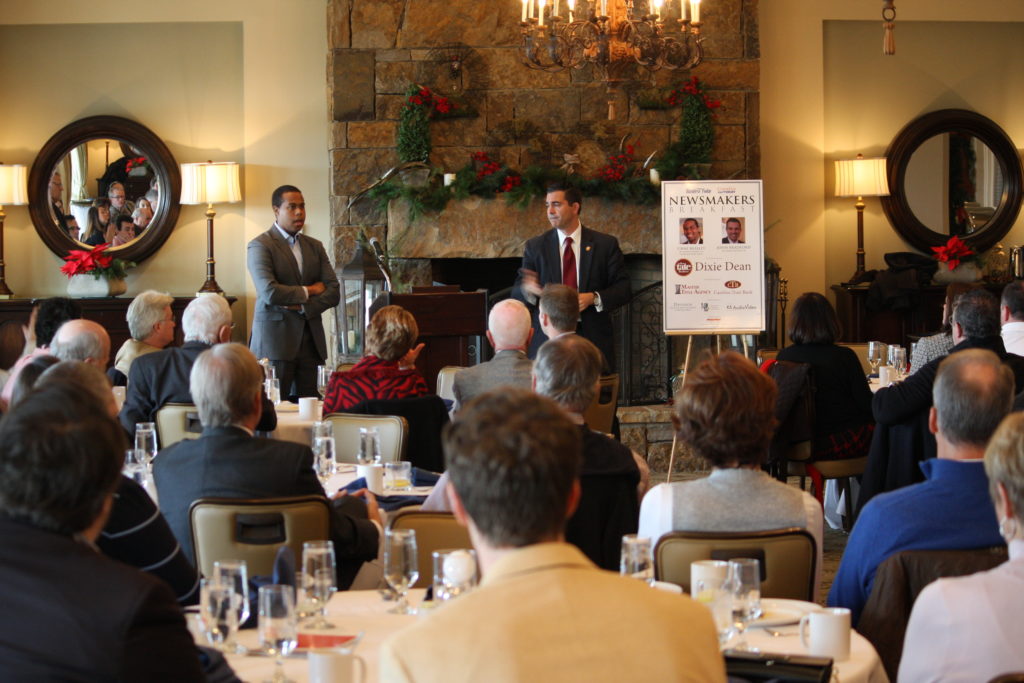 By Dave Vieser. The I-77 toll plan was front and center at a Newsmakers Breakfast at The Peninsula Club with NC Rep. John Bradford, a Republican, and Assemblyman-elect Chaz Beasley, a Democrat.
Despite being on opposite sides of the aisles, the two—both rising stars in their respective parties—showed every sign of getting along, mutual respect and a willingness to work together in the Capitol.
Bradford said the toll lane issue is one example where Democrats and Republicans are in lockstep. "My Democratic colleagues from this region and I have and will continue to pool our efforts to address this terrible contract," he said.
Beasley concurred. "We'll need to work together because the clock is ticking, and there are two other toll lane projects already on the drawing board."
The 900-page contract has been called a fiasco by political leaders from Cornelius Commissioner Dave Gilroy to N.C. Sen. Jeff Tarte, the former mayor. The N.C. Department of Transportation plans to add toll lanes to Interstate 485 and U.S. 74. Beasley, who is an attorney, doesn't want the same mistakes that were made on the I-77 contract to be made elsewhere.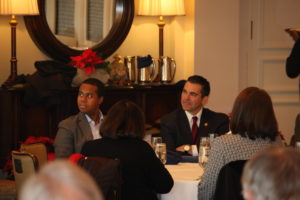 Beasley was elected to the NC House seat formerly held by Charles Jeter of Huntersville, who resigned last spring. He beat his opponent, Beth Caulfield, 54 percent to 45 percent. Bradford, a former Cornelius commissioner, defeated independent Jane Campbell 56 percent to 43 percent.
RELATED: RSVP today! Wells Fargo economist Sarah House to speak at Newsmakers Breakfast Jan. 19
The two were the featured speakers at the open forum NewsMakers Q&A which also drew the likes of NC Sen. Jeff Tarte, Huntersville Mayor John Aneralla and Mecklenburg County Commissioner Pat Cotham. Members of the town boards came from both Huntersville and Cornelius.
Tarte reiterated his charge that there was "malfeasance" involved on the part of NCDOT lawyers who signed off on a 900-age contract with Cintra, the only bidder on the $650 million toll lane project between Mooresville and Charlotte.
"Isn't it strange that virtually all of the DOT legal staff which worked on this contract are no longer with DOT?", Tarte said.
Beasley said the contract is almost totally in favor of Cintra, not the citizens of the Tarheel State. He should know. Beasley is an attorney with Alston & Byrd, a large Charlotte law firm where he has reviewed countless contracts in the world of high finance and public entities.
"I know the law firm Cintra used and they are familiar with this type of agreement. It's almost as if Cintra had written it, while the DOT staff had no virtually no experience," Beasley stated.
Bradford also agreed, adding that "one of the problems we have is that representatives from other parts of the state could care less about I-77, so it's a tough sales job. However, we intend to push our recent bill calling for an independent review of the contract and RFP process when the long session convenes in January."
Bradford's appearance in itself was a surprise after a series of special sessions in Raleigh that were profoundly newsworthy in and of themselves. For one thing, Republicans bridled incoming Gov. Roy Cooper, a Democrat.
"I've been excused from the special session because I really wanted to be here, and I also have local meetings lined up all day," Bradford said.
Bradford defended the bills approved by the Republicans. "I'm a moderate conservative and many of these changes will give us better tools to control spending and oversee state government more efficiently," he said.
Beasley countered: "We in government need to be as transparent as possible."
Regarding HB-2, Bradford said, "No one is pure." He regretted that the Charlotte City Council failed to annul their ordinance last summer. "The votes were there and if they had moved, we would have done so, too, in Raleigh."
Both representatives also agreed that the composition of the Charlotte Regional Planning and Transportation Organization needs to change. Charlotte holds an almost insurmountable majority of the weighted votes, even around projects that might only affect North Mecklenburg.
"I'd like to see some sort of formula where votes are apportioned by project mileage, not just by population as it is now," Bradford said.
NewsMakers Breakfasts are open-forum public discussions with key people in the news. Questions are driven by the audience. The presenting sponsor was Dixie Dean, with Allen Tate Realtors. Carolina Trust Bank, Davidson Wealth Management, Master Title Association and KS Audio were also sponsors.