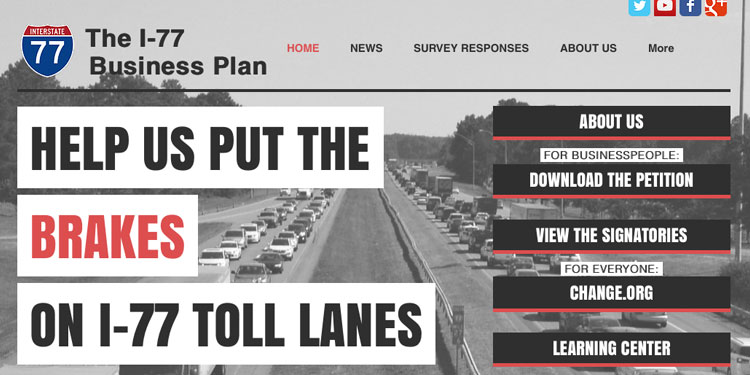 Oct. 4. An anti-toll group has endorsed Democrat Roy Cooper in the tightly contested race for governor of North Carolina.
Known as I-77 Business Plan, the group, according to its website, includes outspoken former Lake Norman Chamber Chairman John Hettwer; John "Mac" McAlpine V, a teaching professor at UNC-Charlotte; Republican Mecklenburg County Commissioner Jim Puckett; Mike Russell, chief operating officer of Madvapes; and Greg Wallace, senior vice president for brand management at Rusty Wallace Inc.
In a press release Tuesday, Hettwer said the group's endorsement committee had surveyed a variety of candidates and asked four questions:
Do you support cancellation of the I-77 Toll Lanes/Cintra contract?
Please describe your past efforts to support cancellation of the I-77 Toll Lanes/Cintra contract.
Specifically describe the legislative (if applicable) and persuasive actions you will take, if elected, to cancel the I-77 Toll Lanes/Cintra contract.
Would you consider supporting a repeal of Mecklenburg County's half-cent transit tax?
Incumbent Gov. Pat McCrory, a Republican and a supporter of the tolls, did not respond, according to the group.
A spokesman for Cooper said he is "committed to investigating the details of this project to determine the true cost of cancellation. From the beginning, too many details involving this contract and its negotiation have been shrouded in secrecy—and that lack of transparency is troubling. It's clear that the McCrory Administration waited until construction began to publicly estimate an $800 million penalty when the Governor could have canceled the contract at any point beforehand."
The group endorsed both the Republican (Danae Caulfield) and the Democrat (Chaz Beasley) in the race to fill Rep. Charles Jeter's seat. Jeter was a late arrival in the anti-toll movement and resigned from his District 92 seat.
I-77 Business Plan endorsed Republicans John Bradford and Jeff Tarte in their bids for re-election to House District 98 and Senate District 41, respectively.
The group also endorsed Democrat Rochelle Rivas for House District 103, which is currently held by Republican William Brawley, a powerful pro-toll leader in Capitol and the Matthews/Mint Hill area.
The group also endorsed Republican Puckett and Pat Cotham, a Democrat, in their re-election bids.
Tarte said the fight against the tolls is not over by any means. "The contract with Cintra has a termination provision. As long as I am the state sentator for District 41, the fight to cancel the toll road contract is not over until the termination provision is excercised," Tarte said.