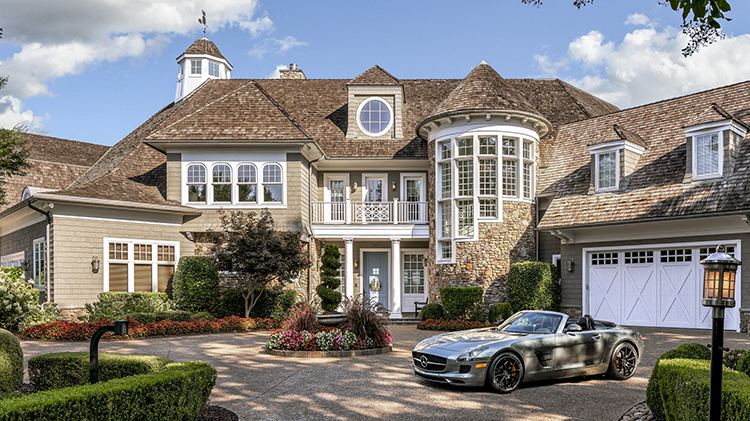 April 18. A ​stunning ​lakefront estate in ​The Point in ​Mooresville has sold for $4.78 million, one of ​the most expensive sales in Lake Norman—and Charlotte—during the past year.
The ​12,000 square foot ​house, at 127 Thurstons Way, ​was listed​ at $5.9 million with Victor and Amy Petrenko of Premier Sotheby's International​, in Cornelius.​
​The house sold after eight months​ on the market with the Petrenkos​. The selling agent was Jodie Wideseck of Trump International Realty.
​Amy Petrenko said the estate represents the epitome of luxury​ resort​ living on Lake Norman.
​"​Selling a property of this magnitude is a challenging feat, especially when that listing is the most expensive in Mooresville​," she said.
The ho​use has ​a variety of custom details, ​including wood​-panelled​ corridors and elegant staircases​, a ​1,200-bottle wine cellar​ and a​​​ home theater a​s well as a game room​ and an outdoor oasis with an infinity pool.​
There is a two-car ​"​day garage​"​ and​ a ​four-car, climate controlled collector's garage​.
The swank abode ​was listed at $7.95 million in 2015, and reduced to $7.45 million in 2016. It​ was re-listed​ with Sotheby's last fall.
Iredell County tax records value the property and structures at $4.165 million.
P​remier Sotheby's International Realty has over 1,100 associates and employees in 40 locations throughout Florida and North Carolina. The firm ​is associated with the storied Sotheby's auction house, established in​ ​1744.
PHOTOS: JOE PURVIS