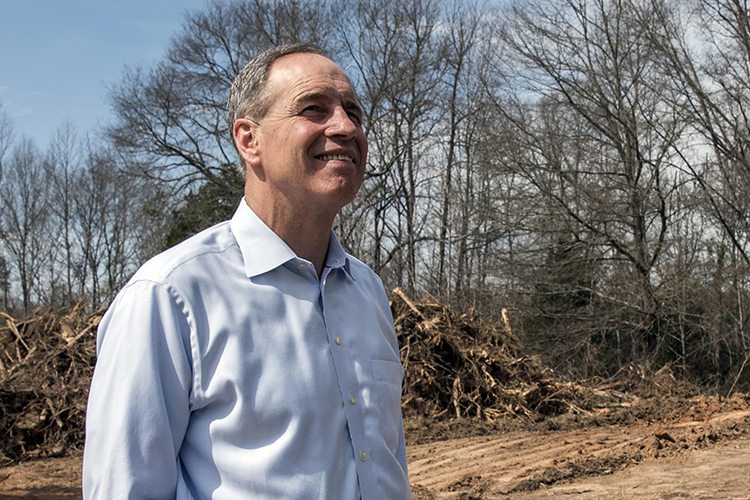 ​
By Kate Stevens. A new 180-acre mixed-use development featuring residential units, retail, office and medical space along with entertainment options in a village center-style layout is coming to Cabarrus County. ​It will take seven to 10 years to build out.​
The Farmington development, by Charlotte-based MPV Properties, will split the Cabarrus and Mecklenburg County line at Rocky River Road and I-485 and is planned to become a gateway corridor to Harrisburg.
The project moved forward July 10 when the Harrisburg Town Council approved an amendment to the site plan's conditional zoning for the 109 acres within the town, said Harrisburg Planning Director Josh Watkins.
The Charlotte City Council approved its own zoning amendment for the development's remaining acreage in Mecklenburg County earlier this summer.
According to MPV Properties, the Farmington development includes the phased construction of up to 50 single-family homes, 430 townhouses and 275 apartments.
The project will also have walking and biking trails along the Fuda Creek greenway, a movie theater-anchored entertainment center with restaurants and retail shops, medical offices, a YMCA with sports complex and a hotel, according to MPV Properties.
"I think mixed-used development, in the last 15 or 20 years, has become seen as a much better solution to the older style of having very distinct separate uses," said Jim Merrifield, MPV Properties managing partner. "I think the reasons for that is because of the way that it promotes walking and bicycling. It reduces trips, it reduces traffic congestion and maybe most importantly, creates more of a community opportunity for people to be together."
MVP Properties is responsible for various commercial and mixed-use projects in the area including the construction of Redstone, a 310,000 square-foot retail center in Fort Mill, S.C., and Riverbend Village, a proposed mixed-use development in northwest Charlotte.
Development of the Farmington property has been in the works for at least a decade, in congruence with Harrisburg's master plan, Merrifield said.
Around 2002, MPV Property intended to turn the land, owned by Charlotte's prominent Blumenthal family, into commercial office space, said Watkins.​
The economic downturn came in 2007 and two years later, Merrifield approached the town council again with a revised plan to turn the land into more of a shopping center with commercial space in Harrisburg and new residential units in Mecklenburg County, Watkins said.
That plan was approved in late 2009 or early 2010 by town of Harrisburg and City of Charlotte officials.
But Merrifield, responding to changes in market conditions, again approached municipal officials in 2016 with a revised plan featuring a more balanced, village-center model, Watkins said.
This latest plan has "incorporated that small town feel Harrisburg is so proud of," Watkins said.
Instead of having the county line divide the residential and commercial aspects of the project as in the previous plan, the current plan is better designed for the area, Watkins said.
The previous plan included 654,000 square-feet of commercial space with 130 speciality houses for seniors on the Harrisburg side, Watkins said.
The current plan for Harrisburg's side of the project reduces commercial space to about 350,000 square feet with up to 240 residential units not limited to senior living, Watkins said.
The commercial side of the development is next to Rocky River Road and I-485 while the residential side sits further north where Harrisburg already has residential units in place, Watkins said.
MPV Properties will be responsible for extending the Farmington Ridge Parkway from Rocky River Road through the site to Tom Query Road and Caldwell Road, Merrifield said.
The phased project will be completed in seven to 10 years with the first buildings up in 2019, said Merrifield. "We're really excited about seeing it move forward," said Watkins.