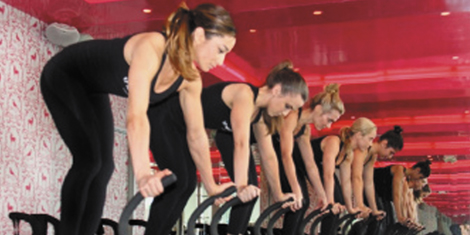 By Dave Vieser. The increasing popularity of triathlon and cycling events—as well as getting fit in a fun setting—is spawning new entrepreneurial businesses. Elite Fitness and Performance opened their new facility in January at Carolina Courts in Concord, while Podium Multisport plans to open a 4,800-square-foot space in Cornelius in March.
Driving the decision by both enterprises are studies and real life experiences showing that triathletes, cyclists and health-minded individuals can make for a healthy bottom line.
Boutique fitness classes, ranging from early morning DJs and Pilates to CrossFit and cycling classes, can run upwards of at least $20 for less than an hour-long workout. Work out more than once or twice a week, and one can almost see the blood flow and cash flow.
Indeed, there are a dozen fitness-related businesses within or adjacent to a mile-long stretch of West Catawba Avenue in Cornelius.
Ric Johnsen plans to open Podium Multisport in the former Blockbuster store just off Catawba this March. Johnsen says the fact that the region plays host to a number of triathlons and organized cycling events every year should help Podium Multisport succeed.
"My goal is to establish a triathlon and cycling speed shop that will assist every athlete from beginner through elite to get faster," Johnsen said, explaining that the business "supports' the multi-sport lifestyle."
Podium replaces tired retail space—an old Blockbuster store—with a targeted, destination-type business that is likely to add some life to a shopping center known for its low visibility on West Catawba.
The center was built in the early 1990s for Bi-Lo, which opened a 42,000 square foot store in 1993. However, Bi-Lo closed eight years later so Podium Multisport should help generate traffic.
The business will have several components including a retail store that carries established bike brands, along with a bike-fitting process which helps tailor the bike to the athlete.
In Concord, Elite Fitness and Performance, located at Carolina Courts, 24 Spring St., features strength and cardio equipment for athletes at any level. Personal trainers offer challenging fitness classes and exercise. Their gym is open 5 a.m. to 10 p.m., seven days a week.
"The rise of the fitness boutique industry is a nationwide trend that is helping drive business into tired shopping centers that were designed for 1980s and 1990s sensibilties," says Gordon Allebach, founder of G Brokerage in Cornelius.
The old Blockbuster space, mostly wide open, lends itself to a fitness concept, as does warehouse and flex space, Allebach said. Walter Harvey, with Lake Norman Realty, represented the tenant.