Jan. 13. By Dave Yochum. What's with all the new banks on West Catawba? Actually there were the same number of banks in Cornelius on June 30, 2022 as there were on June 30 the year before.
Fourteen. Across those 14 banks in good old 28031, total deposits amounted to $1.487 billion.
That was down 0.73 percent from $1.498 billion in deposits town-wide on June 30 of 2021 – when there were also 14 banks.
"This is part of a national trend where savings rates and household deposits have declined as household real personal incomes have declined and households are using their savings to maintain household spending. In addition, credit card usage is up by households as well as increases in usage of home-equity loans," says nationally known economist John Silvia.
Over the past 10 years banks have moved and consolidated. Aquesta's branch downtown closed, not to mention the bank itself being acquired by United Community Bank.
Let's go back 10 years. In 2012, there were 13 bank branches – and total deposits of only (only?) $615.7 million, so in the last 10 years Cornelius has become a billion-dollar banking town.
A second Fifth Third
The Cornelius banking market is big enough for Fifth Third to open a second branch less than a mile from its original branch at Torrence Chapel and West Catawba.
It seems to be paying off, based on data from the Federal Deposit Insurance Corp. If you look at Fifth Third's market share in 28031 in June of 2021 – 8.31 percent – it climbed to 9.43 percent as of June 30, 2022.
Fifth Third Bank officially is opening its "Next Gen" financial center in August of '22, the only bank with two branches in Cornelius.
Some declined in market share…
Other banks have seen their market shares decline. FDIC data shows Bank OZK market share declined from 3.63 percent as of June 30, 2021 to 2.89 percent one year later. Region's market share fell from 12.78 percent in 2021 to 10.91 percent in 2022.
United Community Bank, which took over Aquesta in the fall of 2021, saw its market share fall from 19.62 percent in June of 2021 to 15.99 percent by June 30, 2022.
Some increased
But despite a nationwide scandal involving mass-scale fraudulent activity in the 2010s, Wells Fargo – which has a stellar reputation locally – saw its market share rise from 18.61 percent in June of 2021 to 21.34 percent as of the end of June 2022.
A market share shift of just 1 percent represents a lot of money, almost $15 million.
In fact, bankers use $25 million as a rough rule of thumb for the minimum level of deposits for a local brick and mortar branch to be profitable – about what Elvis would have in his checking account were he alive today.
In addition to Fifth Third at Magnolia Estates, Chase and HomeTrust opened new branches in the past two years, while Truliant moved out.
Silvia said more people, more incomes and the boom in housing helps create the need for more bank branches, all this in spite of on-line banking and virtual-only banks like Ally.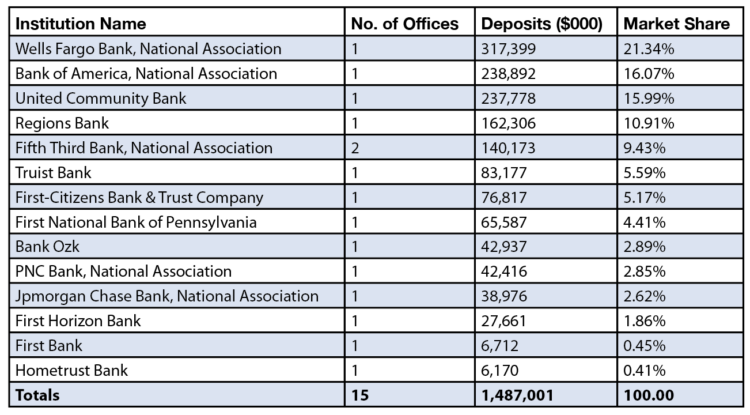 Gen Z and online banking
Gen Z consumers are looking for convenience more so than relationships. They want to pay bills in one app and on the same screen.
Nevertheless, Silvia said bank branches are not going away any time soon, witness the investment in brick and mortar by Chase, Fifth Third and HomeTrust.
"For these banks, they want to get into the market and have a physical, visual presence. Population growth has always brought in new banks," he said.
Brick-and-mortar banks won't go the way of Blockbuster any time soon even though neobanks like Ally Bank and other startups have captured the hearts of disrupters.
When there's a problem with an account, an overdraft or the need for a complex commercial real estate loan, there's nothing like a local banker.
Local entrepreneurs will continue to set up "de novo" banks, newly formed institutions that build their deposits and loan customers from scratch, Silvia said.
Town vs. town
Davidson, with half Cornelius' population, has $353 million in bank deposits, according to the FDIC. Huntersville, with twice Cornelius' population, has $1.9 billion in local branch deposits, only 27.7 percent more than 28031. Huntersville has 13 bank branches, Cornelius has one more.