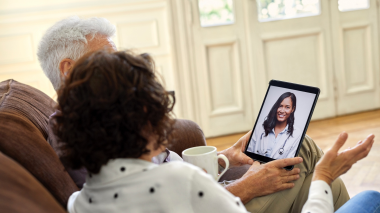 May 12. An unexpected side effect of the COVID-19 pandemic has been a surge in utilization of technological advances. Virtual technology lets patients receive care without setting foot in a hospital or doctor's office – and without risking exposure to the coronavirus.
"COVID-19 will radically change healthcare faster and more drastically than Sept. 11 altered the airline and travel industries," says Cynthia Lauer, MD, a trauma surgeon at Atrium Health. "COVID-19 will be the catalyst that totally changes how we deliver healthcare across all disciplines."
Office space needs
It will also change the real estate side of the healthcare business. Robert Lowrance, broker and founder at Lowrance Properties in Cornelius, said office visits, for one thing, will go down.
"As telehealth reshapes patient care, space and design needs will become more efficient and smaller, with 40 percent to 60 percent fewer patients visiting the office," Lowrance said.
Indeed, a new tool called Healthbot hosted more than 350,000 self-triage sessions during the first two weeks it was up and running in March. The RN Screening Practice, which also launched in March, had more than 1,500 sessions in its first week
The pandemic diverted patients from in-patient care to prevent the flooding of emergency rooms and other facilities beyond capacity. The trend makes good business sense: Less need for lobbies, less demand on staff and time.
According to a study at a New York hospital virtual urgent care visits grew by 683 percent, and non-urgent virtual-care visits grew by a staggering 4,345 percent between March 2 and April 14.
A permanent change?
"The new realities of healthcare delivery in a post-COVID-19 world will necessitate the continued use of telehealth to support social distancing and maximize health care resources," said Ann Mond Johnson, CEO of the American Telemedicine Association.
Levine Children's Virtual Platform began on March 2, and since then, hundreds of patients a day log on to meet with providers over two-way video or phone appointments. Patients can schedule appointments with their own pediatrician and pediatric specialists or have an on-demand visit for urgent needs. Levine Children's works with patients and families to match the type of appointment to their needs.
Novant has three kinds of virtual visits, including comprehensive e-visits, on-demand video visits and scheduled video visits. You can explore options here.