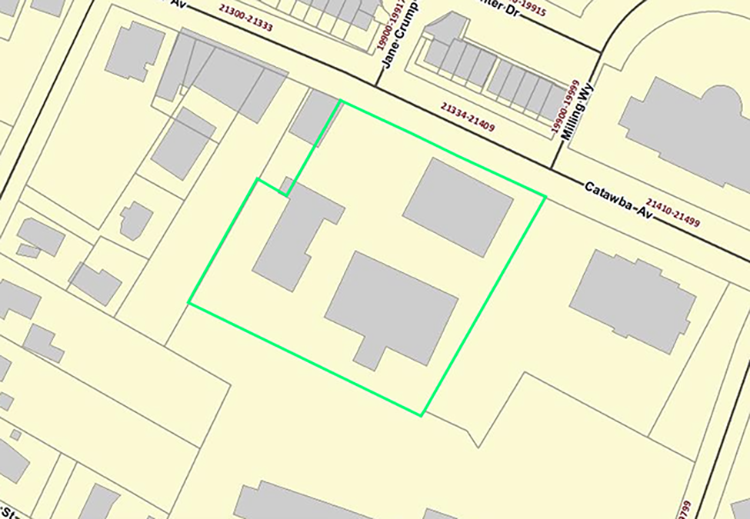 By Dave Vieser. With recent town board approval, Vermillion Village in Huntersville appears to have a clear path for development, at a time when several other large mixed-use projects, including Lake Davidson in Mooresville and the Beaty Project in Davidson, are in various stages of consideration and controversy throughout the Golden Crescent.
The Vermillion project will cover about 30 acres of vacant land and is designed to establish a town-center theme between North Church Street and Huntersville-Concord Road.
​Downtown ​Huntersville ​will be transform​ed when​ a long-vacant property—​the old Anchor Mill site, unused for decades—​is replaced with apartments, condos and ​retail large and small.
​Previous town leaders were never able to work a deal to redevelop the property, despite its importance in the downtown landscape. Mayor John Aneralla said Vermillion will be a catalyst for redevelopment nearby.
"The development of Vermillion village combined with the development of the town's properties surrounding town center will put pressure on current downtown landowners to update their facilities in order to remain competitive​," Aneralla said.
Kathleen Rose, president of Davidson-based planning firm Rose & Associates, recently completed a study of the issues and trends impacting U.S. commercial and residential real estate. "One of the top issues which developers must address is the ability of malls and downtowns adapting to nationwide store closures with new kinds of experience-driven offerings and the reinvention of the grocery stores which have anchored many shopping centers."
Vermillion Village fits right in to that need with a proposed 78,000-square-foot supermarket as an anchor and 18,000 square feet of retail space in addition to 400 residential units.
Timing is also a major factor, and the post-recession availability of capital certainly helps. A short distance south of the Vermillion Village property lies Bryton Town Development, a 450-acre mixed-use project anchored by Walmart. Bryton is growing, albeit at a slower pace than originally envisioned. As much as timing helps Vermillion, it hurt Bryton.
Bryton was approved just before the recession and that had a significant impact on the speed of development," said Huntersville Planning Director Jack Simoneau.
The lack of commuter rail line also didn't help."
"If commuter rail served this area, it's reasonable to assume development within Bryton would have occurred at a faster pace. Also, it's likely the intensity or units per acre in Bryton would be higher if rail service was available," Simoneau said.
Another factor that plays to Huntersville's favor is its location. That benefits most retail, including Birkdale Village. Huntersville, of the four lake towns, given its proximity to Charlotte, is less impacted by the current congestion on I-77. Then, too, improvements to I-77 will be done before this project is completed.
National companies have leased a significant amount of space at Birkdale Village, and that trend is expected to continue. However, not all succeed. With much fanfare, Colorado-based Smoke Modern Barbeque opened an eatery in Birkdale two years ago. It closed suddenly three weeks ago.
Their location may have had something to do with that. The restaurant was not in the cluster of successful eateries near the village square, but rather near the Sam Furr Road entrance.
Their closing appears to be the exception rather than the rule. National companies generally find the disposable income and demographics of Lake Norman appealing.
The developers estimate it will take three to five years to develop the Vermillion Village project. The retail portion, including the grocery store, will be developed first. The identity of the supermarket is a closely guarded secret, and it may also include a fueling station.
While the major supermarkets in Huntersville, including Publix, Harris Teeter and Whole Foods, are not far away, most are all on the west side of I-77.
To address concerns about traffic, the developers have agreed to invest a minimum of $250,000 for road improvements such as widening Huntersville-Concord Road and adding more connections to local streets.