April 1. Uwharrie Capital Corp., holding company for Uwharrie Bank, will repurchase up to $1 million of its common stock. The company may repurchase shares on the open market or through privately negotiated transactions.
"Based on a recent independent valuation of our stock, trades do not reflect the value of our company. At current trading prices, it is in the best interest of our shareholders for us to repurchase outstanding shares," Chief Executive Officer Roger L. Dick said.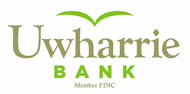 The repurchase plan does not require the company to repurchase any specified amount of shares and it may be suspended or restarted at the company's discretion.
Shares acquired will be cancelled and become authorized but unissued shares, available for future issuance. Uwharrie had 7,039,942 shares of common stock issued and outstanding as of March 30.