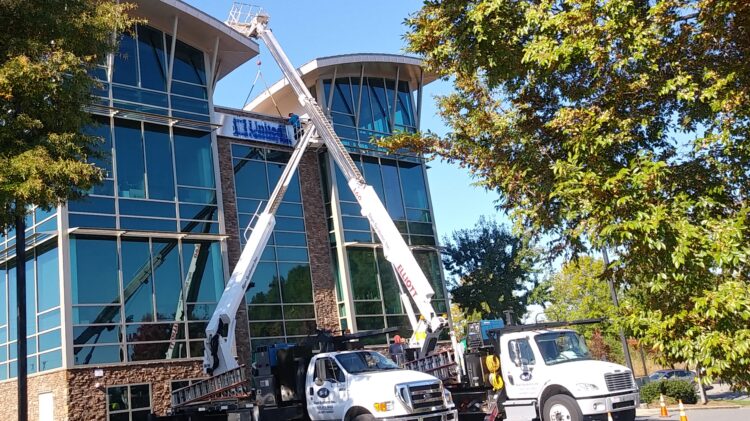 Nov. 1. By Dave Yochum. United Community Banks, which has officially taken over Aquesta Financial Holdings, is erecting new signage on the Jetton Road headquarters of the local bank.
It marks the end and the beginning of two financial institutions in Cornelius.
Aquesta, founded by Jim Engel and other investors in 2006, had $752 million in total assets as of March 31. It was the only bank based in Cornelius.

UCB, branded as "The Bank That Service Built," is more than 18 times larger ($18.6 billion in assets) with more than 150 offices in Florida, Georgia, North Carolina, South Carolina and Tennessee. It also has a national SBA lending franchise and a national equipment lending subsidiary.
Key acquisition
A key acquisition for United Community, Aquesta brought an attractive growth market to UCB, according to Doug Bowman, Charlotte market president.
People are moving to Charlotte and Lake Norman, along with their cash.
"We feel like Aquesta's footprint fits perfectly into our existing operations like a key into a keyhole. Aquesta's strong foundation in these communities and team of talented bankers gives us a great jumping off point for future growth," he said.
'High-touch service'
Both institutions are known for high-touch customer service for retail and business customers.
Size-wise, Aquesta was in the middle compared to previous UCB acquisitions.
"This acquisition is in the middle for the bank overall, but the impact this will make on our ability to grow in the attractive Charlotte and Lake Norman markets is significant," Bowman said.
Charlie Curtis, who was a senior vice president at Aquesta before hopping to UCB in 2019, is now the Lake Norman metro president for UCB.
"Being a former employee of Aquesta Bank for eight years, I truly see how perfect this partnership is from a culture perspective," Curtis said.
In 2021, J.D. Power ranked United Community highest in customer satisfaction with retail banking in the Southeast.
Saturday hours
Outside of the Saturday hours coming to an end in November, clients are not expected to see many other changes from an operational standpoint. For those who enjoy Christmas decorations, the big lighted tree goes back up on the main branch in time for the holidays.
"Our branch staff remains much the same at each location as it was at Aquesta and our commercial lending team here at Lake Norman will remain very much the same," said Curtis, who will be based at the main office in Cornelius.