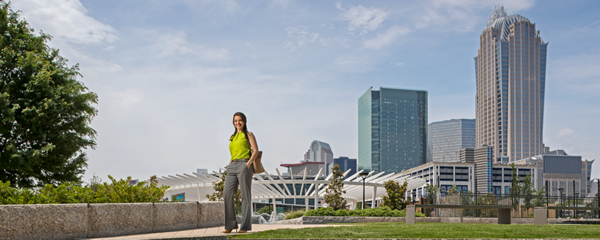 A year from now, the first class of 50 students will kick off UNC Charlotte's new Master of Science in Management program. Beginning in July 2018, program enrollees will be able to earn their master's degree after just 10.5 months of full-time study. This fast-track program will deliver business fundamentals that prepare graduates to solve complex issues, evaluate and sell ideas and lead teams across a wide variety of functions and industries. Classes will be held at UNC Charlotte Center City.
UNC Charlotte's M.S. in Management will fill a critical gap for recent college graduates who desire a professional career, yet lack a business foundation. This new opportunity gives a unique alternative to students to add relevant business acumen to their resume before starting a career, versus an MBA that typically requires prior work experience.
"For students who majored in areas outside business, this program gives them an opportunity to achieve a master's degree in less than a year, immediately following their undergraduate studies. It will improve their job prospects with the addition of sought-after business skills that are demanded in the professional arena," said Dolly King, associate dean for graduate programs in the Belk College of Business. "In addition, they will receive personalized career coaching and professional development training to become more desirable in a highly competitive job market."
The program requires a total of 30 credit hours and will be delivered during the daytime, five days per week. Students will be trained in the fundamentals of accounting, finance, marketing and management. They will develop an understanding of individual and group dynamics that affect and shape organizations and understand the role and effect that management decisions have on an organization.
"Employers see value in hiring graduates from liberal arts, sciences and engineering," said Steven Ott, dean of the Belk College of Business. "These degrees develop students with skills and perspectives that are valuable and in demand. The M.S. in Management degree will then add comprehensive business skills to the students' current base of knowledge, while also adding an understanding of the role and structure of business so they are able to immediately contribute to and add value to any organization."
The M.S. in Management degree program is the only one of its kind offered in Charlotte, and the only program at a North Carolina public institution — providing a high-quality degree at an excellent value. In-state tuition for this program is approximately $31,000, less than similar programs at private institutions. Out-of-state tuition is lower than similar programs, too.