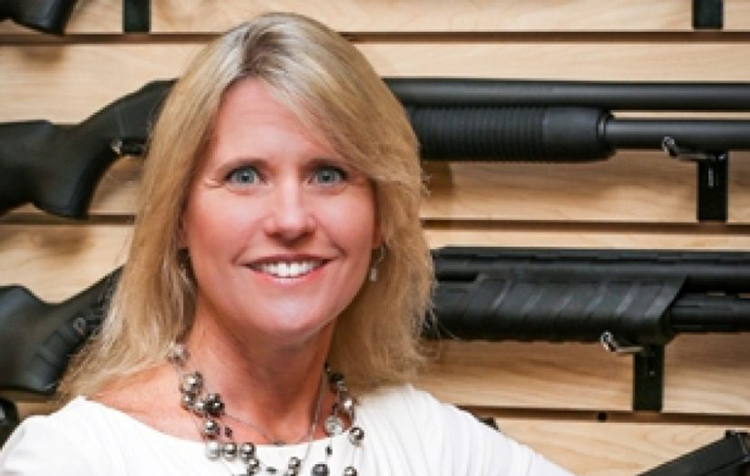 A name from Cornelius business and local GOP politics will be front and center at the  Lake NormanChamber of Commerce in 2019. Tricia Sisson, who ran for Cornelius Town Board in 2017, will officially take over the chamber's volunteer reins on Friday.
The chamber has close to 900 members, about the same as 2017. "Our goal is very simple: Grow membership by creating value," Sisson says.
The incoming chair came in seventh in an 11-way race for five seats on the Cornelius Town Board in 2017. She was one of three women who ran; all three lost.
Sisson and her husband Brian opened The Range at Lake Norman in October of 2011, and The Range at Ballantyne in August of 2014. An operating agreement for Denver Defense failed last year as gun sales everywhere fell after President Trump was elected.
The two locations of The Range have two full-time and 22 part-time employees, some of whom work in both locations.
Sisson is a sales pro. Her full-time job is National Account Manager for Clorox, with responsibility for Kingsford and Brita at Lowe's as well. She also works with broker partners managing the Clorox businesses at hardware customers like Menards, Ace and True Value.
But her first "real job" was working for Zayre Department Store in Sanford, N.C.
"I started in the men's department, worked my way up to cashier and then customer service. My favorite hours were midnight to 8 a.m. the week before Christmas when we were open 24 hours. That shift paid time and a half, and that was a lot of money when minimum wage was $3.85 an hour!"
Cornelius Today caught up with Sisson for an interview a few weeks before she takes over as chair from Joshua Dobi. It cycles through the board; banker Richard Pappas will take over in 2020.
As chair, what are your top agenda items for 2019?
Sisson: Creation of a fully integrated digital platform for members, enhanced website capability and monthly newsletters to communicate tools and new features, like the ability for members to use the platform to enable two-way digital communication…also revamp membership packages, creating value that addresses the needs of members based on survey results…creation and clear communication of Affinity Programs and LKN Chamber exclusive member benefits as a catalyst to growing our membership.
Any new benefits for chamber members?
Sisson: There will be. The board is very engaged and energized on this topic. We have an incredibly talented board with a broad professional background, and I am very confident in our ability to deliver on a much improved member experience in 2019.  The board conducted a survey of our members in 2018 and we received a lot of responses and some really excellent insight into their desire for the chamber to help them not only exist, but to thrive in what has become a very competitive marketplace. As an entrepreneur myself, I am highly sensitive to the needs of our members and the role the chamber plays in helping their businesses grow.
What's your outlook for the national economy in 2019?
Sisson: The national economic outlook remains very solid for 2019, with GDP growth at 2.5 percent, unemployment declining to just over 3 percent, and inflation growth at around a modest 2 percent.    
What's your outlook for the regional economy—think in-migration, housing costs, economic-development?
Sisson: For our area, we are very optimistic that we will continue to see solid business growth, both in our small business and mid-sized business starts.  The chamber works closely with Lake Norman Economic Development to attract new business to the area, and we are seeing very positive results—for example the recent announcement of SPRiZZi Bev-Co moving into the former Michael Waltrip Racing building in Cornelius, bringing 250 new jobs to Lake Norman.