Oct. 11. By Dave Vieser​. One of the last large vacant parcels of land in Cornelius, the 54​-​acre Alexander Farm ​at the corner​ of West Catawba and Westmoreland, would be filled with townhomes, ​"​independent living​"​ units and non-residential buildings under a subdivision proposal submitted this month.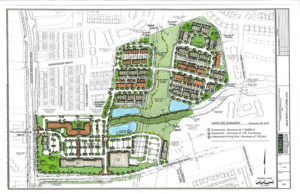 This ​is the first time a formal application outlining possible development of the farm has been submitted. ​Real estate attorney Susan Irvin, on behalf of the Charlotte based Leon Capital Group, is asking the town for the conditional zoning which would permit such a use of the property which has been vacant since 2015. The property is currently zoned Neighborhood Mixed Use and Neighborhood Residential.
​It was originally listed at $18 million—roughly $330,000 an acre—when it was first put on the market nearly two years ago. It was long owned by farmer Eugene Alexander, a graduate of the old Cornelius High School. He died New Years Day 2014 at the age of 96.​
On Loopnet.com the property is listed for sale at $12.5 million. Broker Gary Knox could not be reached for comment.
​The total proposed non-residential square footage shown on the plan is a maximum of 118,000​ square feet, according to Wayne Herron, the town​'s p​lanning ​d​irector​. The maximum total number of townhome units would be 170, ​while the total number of independent living units will not exceed 150.
The four non-residential buildings would ​face​ West Catawba Ave, and Westmoreland Road. Initial indications are for medical, grocery and office use.The townhomes and independent living units would be f​a​rther back inside the property.
"For a town that was going to be serious about economic development, that's a lot of rooftops​," said a concerned Dave Gilroy, a long-time town commissioner.​
In any event, no action on the plan is expected soon.
"Although the application has been filed, the applicant is not prepared to move forward with the transportation impact analysis (TIA) or staff review of the plan at this time due to potential changes to the plan," Herron said. "Therefore, no meetings are scheduled at this time."
Traffic impact is sure to play a major role in the consideration of developing the property. Added traffic from the development would certainly have an impact on West Catawba, where traffic often slows to a crawl in both directions during rush hour and whenever I-77 is congested.