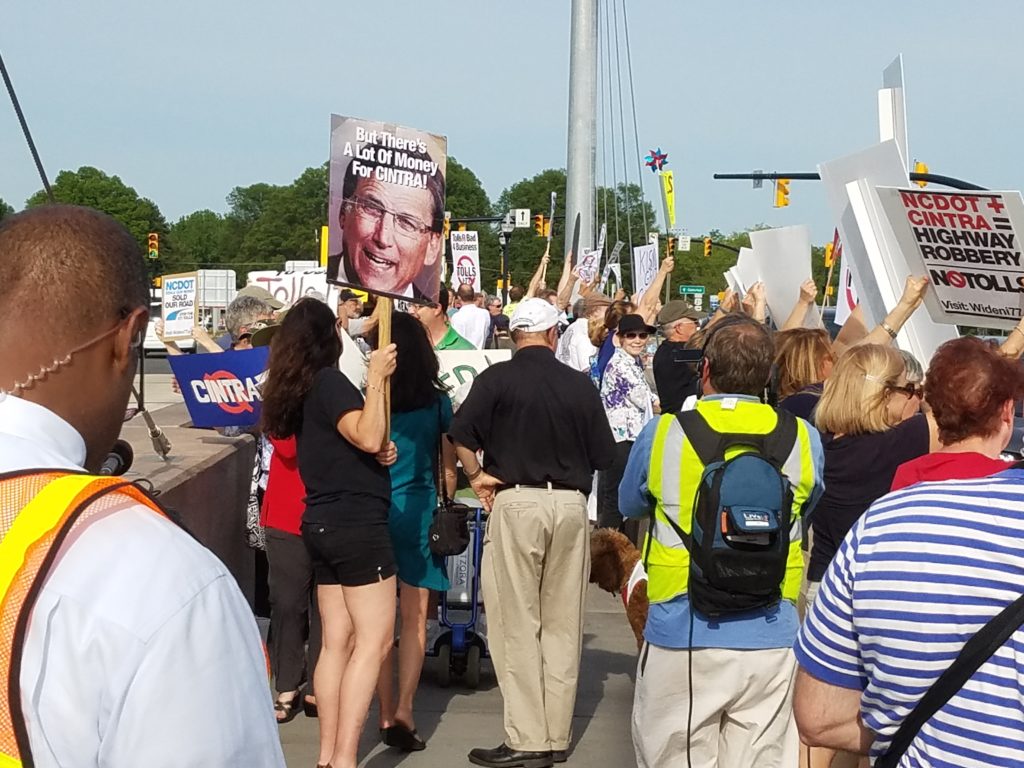 By Dave Vieser. While the failure of the NC Senate last spring to consider House Bill 954, which called for the cancelation of the I-77 toll lane contract with Cintra, was a major blow to the project's opponents, Widen I-77 leader Kurt Naas says the group is considering more legal action.
"It's true that our best shot at stopping this contract was eliminated when the GOP Senate leadership of Phillip Berger, Bob Rucho and Tom Apodaca killed the contract cancellation bill that the House overwhelmingly passed," said Naas, who lives in The Peninsula. "So right now we are waiting to see if an appeal of the original court decision can be heard at the appellate level or North Carolina Supreme Court."
However, legal appeals are expensive and Widen I-77's golf tournament scheduled for Nov. 14 has been canceled, suggesting that the momentum for canceling the contract has slowed.
There also appears to have been a "toning down" of anti toll comments among strong anti-toll proponents, including Huntersville Mayor John Aneralla.
"I don't see any better way of killing this contract than what happened last spring when we had the bill heading to the NC Senate," Aneralla said. And local business groups which had been meeting on a regular basis to map out strategies have suspended their meetings, according to several well-placed sources.
One theory that's making the rounds is that the state GOP leadership passed the word down to "cool the rhetoric" on the toll lanes, lest it cost Gov. McCrory and other state GOP elected officials their jobs Nov. 8.
Not all of the GOP officials from the Lake Norman area say the fight is over. "The contract with Cintra has a termination provision," said NC Sen. Jeff Tarte. "And as long as I am the state senator for District 41, the fight to cancel the toll road contract is not over until the termination provision is exercised."
Implementing the termination provision would cost money and require a willing governor.
McCrory has already made it clear that he will not cancel the contract, but the position of his opponent, Democrat Roy Cooper, is still unclear. The attorney general's office is currently conducting an investigation into the contract so Cooper's ability to make such a commitment at this time is under question. Efforts to clarify his specific position for this article were unsuccessful.
Veteran officials, such as County Commissioner Jim Puckett, see a change at the top as the only hope. "I think I-77 changes will have to wait for a new governor," said Puckett. "And only if we can get him to promise to cancel the contract before he is elected so we have some chance of holding him to it."
Still others, such as Cornelius Commissioner Dave Gilroy, blame the situation on local officials, including Cornelius Mayor Chuck Travis, who met with Berger and Rucho at a crucial time last spring. "They went to Raleigh in June and personally killed the toll lane cancellation bill which we all worked intensively for over a period of years, the State House passed decisively, and our community desperately needed," Gilroy said.
"There is hope for a redoubled effort in the state legislature. Indeed, it may very well take a new governor. It is of course great to see the new lanes being built right now, but when they open in a couple years, they need to be general purpose, and Cintra needs to be paid a fair return for their construction work and sent back to Spain," Gilroy said.