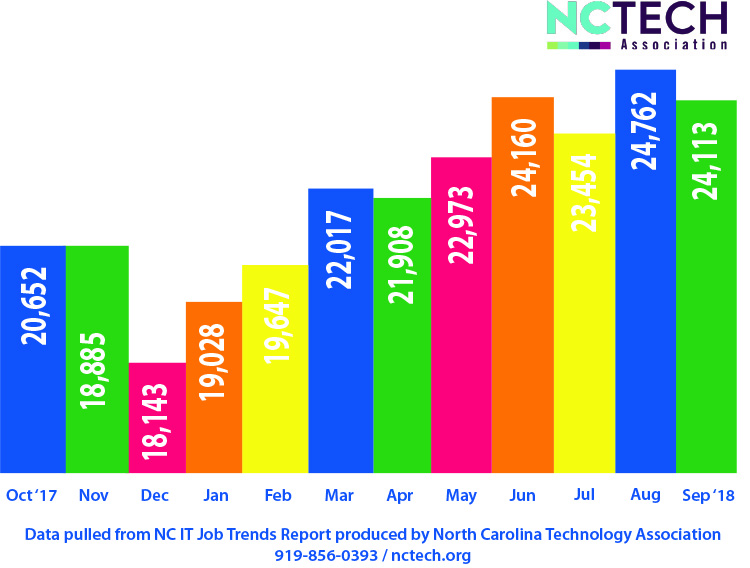 By Erica Batten.  When Amazon announced its choices for two new headquarters locations, more than 200 cities that were not New York and Arlington, but had submitted proposals, were left wondering where they came up short. Raleigh, one of the cities that applied, was also the only North Carolina metro area in Amazon's 20 finalists.
Not to worry: Amazon is not the be-all, end-all of all things tech. In fact, the Tar Heel State tech environment is doing just fine, thank you very much.
According to a report by NC Tech Association, a networking and advocacy organization with 200,000 members, the number of IT job postings in North Carolina has increased almost 25 percent in the past year to reach 25,697 jobs. And while each new Amazon hub is expected to bring an attendant 50,000 high-paying jobs along with five times that many indirect jobs, such a concentration of highly-paid talent may also be burdensome.
USA Today reports that among Amazon's reasons for opening not one but two new headquarters—an unusual move—was that Seattle had grown somewhat weary of the tech giant. At the time it announced intentions to expand headquarters to another city, Amazon occupied 19 percent of Seattle's prime office space. Housing shortages, traffic congestion and income inequality led to a backlash against Amazon.
In North Carolina, tech jobs are spread across the state. While the Research Triangle area is perhaps best known for being a center of IT employment, other well-known tech companies have opened elsewhere. Google has a major data center in Lenoir, employing 250 workers. Apple's facility in Maiden has between 400 and 500 employees, according to Catawba County officials.
The NC Tech report cited software developer Oracle as the top hirer of tech talent last month. Many of its employees work remotely. But it's not just tech companies hiring IT talent. The retail industry saw the greatest gains in IT job postings, with a 93 percent increase over the past year.
In addition to Oracle, North Carolina's top tech employers are IBM, Bank of America, Wells Fargo, Cisco, Deloitte, Verizon, NTT Data, BB&T and Lowe's.
More than 50,000 people in the Charlotte area—many in the tech field—are employed by three on that list: Bank of America, Wells Fargo and Lowe's.
The Charlotte MSA had the most overall IT job postings, representing more than 9,000 of the state's total for October. In terms of growth compared to last year, the Durham/Chapel Hill area, also part of the Research Triangle, saw nearly 100 percent increase in job postings. Greenville, home to East Carolina University, was up 88.5 percent. Hickory, in proximity of both the Google and Apple data centers, saw 45 percent growth.
Occupations with the highest growth over the past year were systems engineers and architects, software developers, IT project managers and information security analysts.
The fastest-growing tech occupation is computer systems engineer, NC Tech reported. Job postings for this position grew more than 58 percent since October 2017.
Top certifications employers sought were Java, software development, structured query language, Linux, Python, JavaScript and applications development.
Economists say growth in the tech sector has a positive effect on other sectors of the labor market. There's also a cyclical effect.
"Technology has increased the relative productivity of skilled labor, and therefore its relative demand," said Wells Fargo economist Sarah House and economic analyst Ariana Vaisey.
Declining labor supply makes it harder for employers to hire workers and pushes up compensation costs, increasing the incentive for organizations to implement labor-saving technologies. Providing access to education and training programs can help ensure that more workers find opportunity in the changing labor market and have the required skills to take up jobs in occupations that complement new technologies, House and Vaisey said.
While Amazon may have passed on the Tar Heel State, we do have most of the attributes the company was looking for: A business-friendly environment, international airports, areas that are attractive to strong technical talent, large metropolitan areas and excellent universities.
Perhaps that's why Advanced Auto decided to move its headquarters from Roanoke, Va., to Raleigh, a decision it announced in October. Advance will offer tech positions related to data analytics, digital marketing and e-commerce.
"Talent availability is absolutely the number-one driver," said Advance Auto CEO Tom Greco.