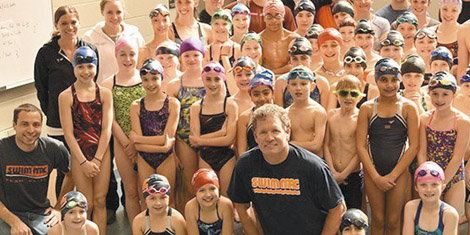 By Cathryn Piccirillo Sherman. The multi-million dollar SwimMAC complex planned for Langtree at the Lake will be located next to a Double-Tree Hilton brand hotel.
"The North Mecklenburg area has a huge need for pool space," SwimMAC Chief Development Officer, Norris Baker, says. "SwimMAC will be a first-class facility that's renowned throughout the country."
SwimMAC is a non-profit that swims with the big fish. Established as the Mecklenburg Aquatic Club in 1977, it has grown from a small competitive team into a highly-regarded organization that provides aquatic instruction and training for nearly 10,000 people in the Charlotte region each year.
Langtree developer RL West donated the land and the infrastructure for the aquatics center. The Mooresville Convention and Visitors Bureau has authorized $650,000 to help fund construction and operating expenses for the project. In addition, SwimMac has raised $1.35 million through a capital campaign that includes corporate naming sponsorships. The organization hopes to raise $6 million for this project and the simultaneous revitalization of another Charlotte area SwimMAC center.
In exchange for the community's support, SwimMAC will work closely with the town of Mooresville to bring swim lessons to elementary age students, water space for high school teams and recreational programs for the community.
Locating the aquatic center next to a hotel will drive large-scale events. "It will be so convenient for families and competitors in swim meets to compete and stay in the hotel. It's an ideal match," Baker says.
Close proximity to Lake Norman, as well as ample restaurants and shopping are part of the equation.
"We value the Lake Norman community so much and appreciate all their support," Baker says. "We believe that due to this great partnership, the value of this complex will far exceed the cost."
One of the biggest draws to SwimMAC's aquatics' program is its CEO and Director of Coaching, David Marsh. Marsh is a two-time Olympic coach, a seven-time National Team coach, a nine-time NCAA Coach of the Year and a 13-time SEC Coach of the Year. Marsh left a 17-year career coaching at Auburn University to join SwimMAC.
"David is very hands-on," Baker says. "He's the reason Olympians come to Charlotte."
Norris and Marsh hope to break ground this spring or early summer; the facility could be completed by summer 2016.
"When you believe in something, it makes it easier to promote," Baker says. "I'll promote SwimMac for years to come. This is what we're doing for the next and future generations."