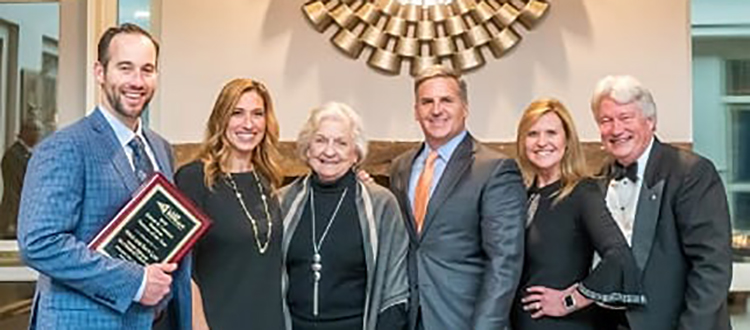 Jan. 23. Greg and Katy Law, owners of Sweet Dream Mattress and Furniture in Cornelius, were named the Robert T. Cashion Business Persons of the Year at the Lake Norman Chamber of Commerce annual meeting at The Peninsula Club.
Robert Cashion's widow, Louise Cashion, and son Gordon Cashion, assisted 2019 Chamber Board Chair Tricia Sisson, who presented the Laws with the award at the Peninsula Club.
In accepting the award, Greg Law cited the vision for the company which is "To help as many people as possible achieve their dreams." Both he and his wife Katy are active in the community serving their church and involved in a number of charities including a "No Child Hungry" event which prepared 10,000 meals to families in need.
The McIntosh Law Firm's Passion to Succeed Award for the 2019 Entrepreneur of the Year went to Zach Greenhill, who with his wife and partner Judy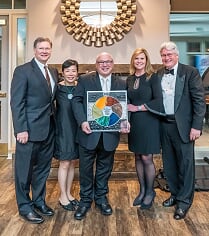 Greenhill, operate Greenhill Antiballistics in Davidson.  Their product, Force Disruption Platform, helps educes the force of impact by up to 50 percent. Their goal is to protect children, athletes, and what the U.S. Army is most interested in, soldiers from traumatic brain injuries.
Jim Butman, president and CEO of TDS Telecom, was the keynote speaker.  Earlier this month, TDS successfully acquired all of the cable, broadband and business assets of Continuum,  for $80 million.
Continuum employees were offered positions and will continue to support customers locally as part of TDS.
2019 Chamber Board Chair Tricia Sisson, co-owner of The Range at Lake Norman, presided over the event. Richard Pappas with First National Bank was installed as the 2020 Board Chair. More info: LakeNormanChamber.org