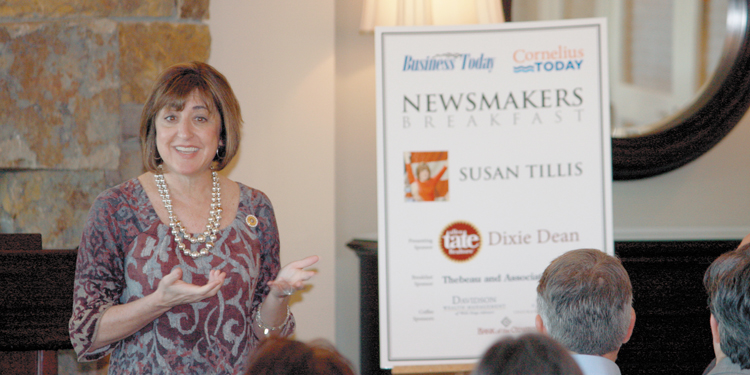 Susan Tillis, a former realtor, real estate manager and mother of two grown children, is no stranger to playing an active role in community service and politics.
The wife of U.S. Thom Tillis taught Sunday school, was an active PTA volunteer, Girl Scout Leader and volunteered in a variety of other organizations.  In 2005, she began a successfulcareer at Allen Tate where she was nominated Rookie of the Year her first year.
Five years later she was managing two of their Lake Norman offices and dozens of agents.
During her husband's successful campaign for U.S. Senate, she visited more than 65  small towns.
Speaking at Business Today's Newsmakers Breakfast last month, she said the senator's principal N.C. office will be near Exit 18 on I-77 in the University area.
Ms. Tillis will be an active political spouse, a newsmaker in her own right. She will continue to wave the Tillis flag by focusing on the military after a visiting Walter Reed National Military Medical Center where she helped cook meals for wounded warriors.
"There is also a real need in North Carolina to do something, and I wanted to do something uniquely our own on our end," she said, explaining that she is working on two or three projects or events to help military families and soldiers in North Carolina.
"You see these brave men and women, some who have been there for five years and it just breaks your heart. We've got to do more for them," she said. She is also working on a Mother's Day event for the wives "who are too often the forgotten heroes."