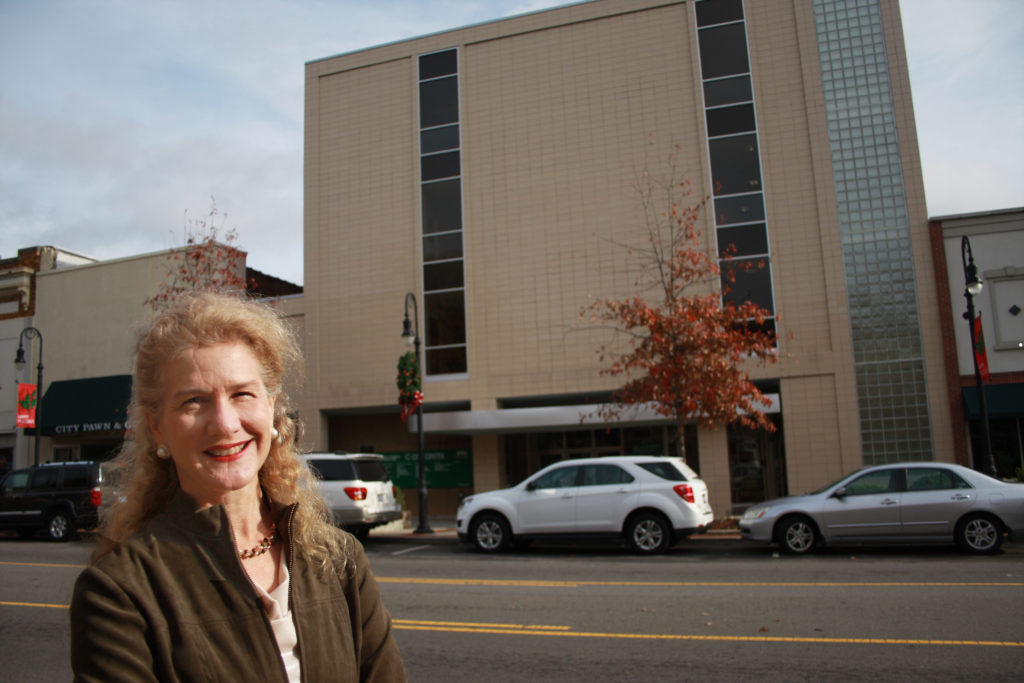 By Erica Batten. Statesville is undergoing a downtown renaissance to rival forerunners like San Diego and Pittsburgh, where a once dead center city has been revived into the vital heart of these urban areas.
Less than two years ago, Statesville completed an $8 million streetscape renovation to provide an attractive and pedestrian-friendly environment, said Marin Tomlin, executive director of the Downtown Statesville Development Corporation.
While renovating the streetscape, the city made water lines more accessible to upper floors of all properties, enhancing development potential, said Mayor Costi Kutteh. The city has also acquired property to locate a fire station south of the current downtown area, which will not only create another development space downtown when the station relocates, but will also expand development opportunities around the new location, he said.
Most of Statesville's downtown buildings are more than a century old. Founded in 1789, Statesville's original structures were largely destroyed in an 1855 fire. Within a few years, two railroad lines were built through town. Following the Civil War, industry based on three primary products—tobacco, liquor and herbs—formed the basis of downtown Statesville's most significant period of growth, which lasted into the 1930s.
Now several developers are working to renovate these existing structures, creating both office and residential space to complement the streetscape.
Richard Angino of Winston-Salem based Third Wave Housing has presented the city council with several options for redeveloping the old Vance Hotel. Built in 1922, the building was purchased by the City of Statesville in 2012. Angino, whose company specializes in the renovation and preservation of tax credit and historic properties, has been working with the city on plans to convert the space into apartments, although creating commercial and civic space has also been discussed.
"Our goal is to give people the option of living in rental loft apartments within the Statesville market," said Angino. "Too many people work in Statesville and then commute back to their residences in other cities."
He believes this landmark property will affect other downtown development. "The redevelopment on the Vance Hotel is a catalyst to reset the local rents so that other properties can also be developed once the market and rent levels are shown with the success of the apartments within the Vance Hotel," Angino said.
Commercial space downtown is affordable compared to bigger cities nearby. Rents average $7-10 per square foot per year. A 2,500 square foot second-floor office space overlooking the square runs $1,500 a month.
City Center, a downtown building where Lake Norman Realty has an office, is 100 percent occupied for the first time in its history.
Abigail Jennings, co-owner of Lake Norman Realty, says Statesville is the "next real estate frontier" due in part to Mooresville's booming real estate market and low housing inventory throughout the lake region. "Buyers and tenants are taking note of the easy drive to Statesville and have been delighted to find plenty of inventory and much lower prices both in Statesville's residential and commercial markets," she said.
Occupancy continues to increase as similar renovations create more retail space. In addition to the Vance Hotel project, another building is undergoing an upfit for a craft burger and beer restaurant. The Landmark Building's second floor was converted to six office spaces. Currently, more than 500 businesses call downtown Statesville home.
"We have a high occupancy rate in our existing buildings, but we have a tremendous opportunity to convert many of the second and third floor spaces into office or residential uses and to expand downtown's current footprint," said Tomlin. "The city has established Downtown Design Guidelines to help guide exterior changes to buildings and new construction so it is compatible with neighboring buildings and the surrounding district in terms of the overall scale and proportion of the building. Over time, adherence to the guidelines will help improve the quality of physical changes, protect the value of investment, and protect the existing architecture."
Renovations' compatibility with the existing environment is just one of several factors that contribute to successful downtown revitalization, according to national nonprofit organization Smart Growth America. Statesville is doing many things right. It hosts two downtown farmers' markets, spring and fall wine walks, a Juneteenth festival, a craft brew festival, a summer concert series, a pumpkin festival and dozens of other cultural events. The Iredell Arts Council hosts performances and classes, and Theater Statesville performs year-round. Mitchell Community College's historic main campus downtown is another important economic driver, said Tomlin.
The city recently completed a way-finding sign program to direct people to downtown cultural events.
Other assets include Statesville's proximity to I-40 and I-77, both within two miles of downtown, its ample public parking, and its historic charm. Downtown boasts five districts on the National Historic Register. It is also the seat of city and county offices, the Statesville Civic Center and the Iredell County Public Library.
Ultimately, revitalizing downtown depends on proactively fostering a dynamic in which people incorporate downtown into their everyday lives.
"Our challenges are primarily demographic," said Kutteh. "We need to draw from outside the Statesville area to ensure the success of our city and all it has to offer."
The recent partnership between the Mooresville/South-Iredell and Statesville economic development efforts is another "positive signal," Jennings said. "The time has come for a Statesville renaissance."