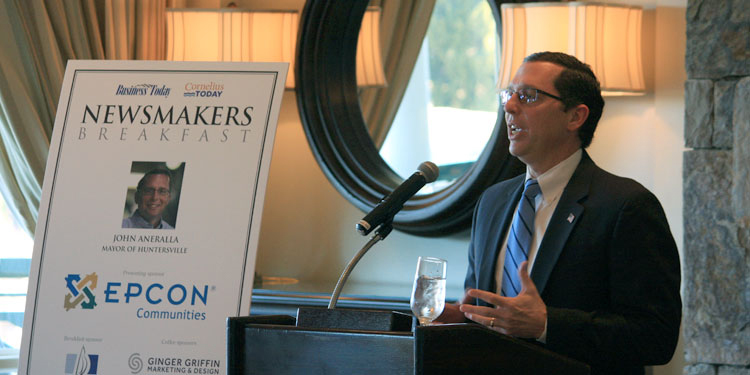 By Dave Yochum. A full year into his two-year term, Huntersville Mayor John Aneralla called his regular monthly meeting with citizens and business owners at the Spare Time bowling and entertainment complex last month a "State of Huntersville Address" and ran down a long list of achievements.
The room was quiet. Aneralla looked around.
He dead-panned like a New York comedian: "I give a State of the Union address. [Pause] It's a little disappointing there are no people standing up and clapping. That didn't happen."
More sardonic about himself than others, practical when it comes to government and alert to business needs, the mayor is getting high marks from members of the business community, including Callan Bryan, the 2016 chairman of the Lake Norman Chamber of Commerce, who himself attended countless ribbon cuttings, policy meetings and networking sessions.
"The fact that he makes a point to go to many business-related events makes him very approachable and accessible to the business community," Bryan said. It's a change.
Aneralla has met with the leaders of more than five dozen Huntersville companies, and gets credit from town Commissioner Daniel Boone for helping save Ensemble Health Partners, a young Huntersville company that had a promise of $5 million in incentives from Tampa, Fla., to move there.
Huntersville provided no incentives, Boone said. A personal relationship with the top level of local government sealed the deal; the health-care revenue consulting company has grown from four employees to more than 500 in the past three years. "John's contact made the difference," Boone said.
"I haven't met one company in Huntersville that isn't looking to hire, not just one or two people, but even doubling," Aneralla says.
Aneralla was an early critic of the I-77 toll plan, laid out in a one-sided 50-year contract.
"What haven't we done is stop the tolls," he said. "I have to say I don't know what more we could have done as a town, as an individual or a board." Aneralla met with almost two dozen senators in the state Capitol, lobbying for a bill to cancel the toll plan. It passed in the North Carolina House of Representatives, having been co-sponsored by NC Rep. John Bradford of Cornelius.
Of course, it failed and the tolls went forward, but politicians like former Huntersville Mayor Jill Swain, longtime town Commissioner Sarah McAulay and Gov. Pat McCrory went down in what local political junkies say was a wave of North Meck anti-toll sentiment last November.
"It's frustrating that decisions that were made by past boards are our responsibility," Aneralla said, commenting on everything from roads to municipal debt.
"Road projects are big and frustrating. Roads are 10, 20, 30 years out, and we need them yesterday. Those things are a little frustrating," says Aneralla, a self-employed investment advisor. He came out against the NCDOT plan to widen I-77 with the help of tolls soon after they were proposed.
Aneralla helped see to it that Huntersville exited the Lake Norman Transportation Commission, a regional transportation planning organization that promoted the failed Red Line commuter rail plan into Lake Norman, and was strangely silent as the $650 million Cintra-NCDOT toll plan turned into a fiasco, complete with unprecedented demonstrations not once but twice on the I-77 overpass in Cornelius.
Leaders like Pat Cotham, a Mecklenburg County Commissioner, and Bill Russell, CEO of the Lake Norman Chamber, joined in the protests.
Says Aneralla: "We were paying someone $100,000 a year to do what our staff does. Is there a need for the towns to get together? Absolutely. … We discuss transportation, but we don't need someone getting 100k to facilitate the meetings."
His stance changed the balance of power in North Meck; Cornelius also pulled out of the LNTC. Anti-toll sentiment was strong enough for the Cornelius Town Board to virtually censure Mayor Chuck Travis and call for his resignation.
"John Aneralla in his short time as Huntersville's Mayor has been a very effective leader prioritizing the needs of citizens and keeping an eye to the infrastructure needs of the future, while balancing the business growth and development of the town," says Bill Russell, CEO of the Lake Norman Chamber of Commerce.
As a business owner himself, Aneralla understands the unintended consequences of over regulating businesses and the burden county and local land codes can place on corporations and new businesses, Russell says.
"Huntersville needed new professional leadership, the town board needed a new skill set, government needed to be more responsive and fiscally responsive," Aneralla said.
Last month Town Manager Greg Ferguson resigned suddenly after a closed-door meeting. Aneralla would not discuss Ferguson's departure. Aneralla helped create a "new, more objective manager's review."
Aneralla says his own background in the world of investments and financial planning "gives a different perspective on making decisions for the town." Including, "without question … less debt."
He points to changes like canceling plans for a town public information officer, saving more than $55,000; rejecting Charlotte's plans to bill Huntersville $57,000 for a regional marketing plan; refinancing municipal debt for a savings of $300,000 in interest; and canceling an event center, saving $1 million.
Other financial savings include initiating the sale of the Anchor Mill property, for $1.3 million, with three acres of the site being donated to the county for a greenway.
"Managing debt and cash for capital improvements projects saved over $550,000 in interest," Aneralla said. While some savings are small—$7,000 from billing the county for damaged roads—they all add up.
"All those changes were initiated by myself or the town board or the staff," Aneralla says. "Eventually it adds up."
He hopes to bring the tax rate down from the current 30.5 cents per $100 of assessed value.
But he's proudest of bringing a more business-friendly atmosphere to Huntersville, starting in places as simple as the Planning Department. A new Land Development Ordinance Advisory Board has already eliminated several ordinances and modified others, making it easier for businesses and residents to discuss projects and voice concerns.
There is a new pre-development board for potential rezoning matters, less formal and easier for developers to work with.
The town is also trying to increase the size of its extraterritorial jurisdiction, the boundaries within which it provides police services. Huntersville contracts with the Charlotte-Mecklenburg Police Department. "That's $2 million sent to the county. We think we can do it for $600,000 or $700,000," Aneralla says.
The son of the owner of a number of fast-food restaurants, Aneralla hasn't lost his entrepreneurial approach to government and red tape. "The studies, my God, they kill us, studies you don't even want," he says, guessing that he has met around 600 people since he was elected.
Will he run again? "I haven't decided on running; there is still a lot to do. But I'm leaning toward running," he says.