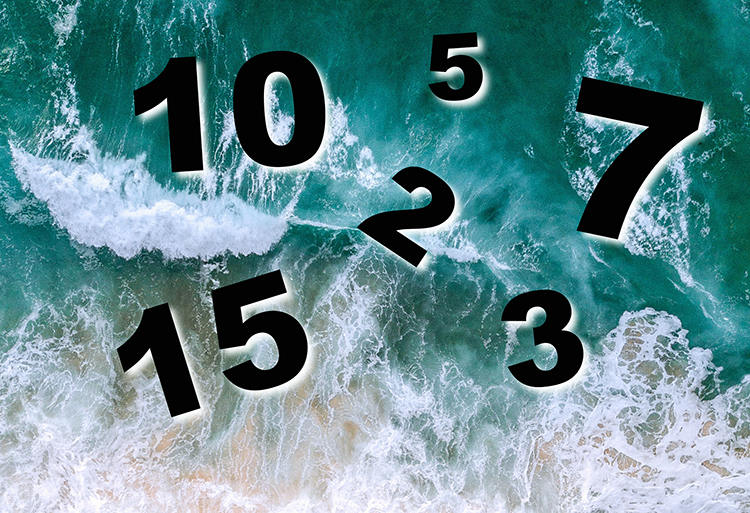 Growth Strategies
By Cheryl Kane. It can be a good feeling to look at year-end revenue and see a comforting level of sales. It may bring a satisfied sigh of accomplishment; and it generally should.  But do you really know what the numbers tell you?
Can you interpret financial statement numbers into meaningful information that ties directly to your strategy? Do you know if there are trends lurking beneath the surface that foreshadow potential trouble in operations, sales, or service?
I call it the undertow.
Numbers in a business are the common communication medium between departments, internal decision makers, and external stakeholders. And like a deep river, the surface may appear orderly, calm and navigable; but beneath, there may be dangerous barriers or a lethal current.  In both cases analyzing what lies beneath the surface aids in being able to plan well, adjust one's course, or maneuver expertly to avoid being stranded.
Analyzing sales numbers and trends from many perspectives can offer insight to sales managers and sales professionals. Some may prefer to depend on their instincts about how they think they are doing. But savvy sales professionals want the clarity of insight that data analysis can offer them.
•  Where did the sales come from, in each customer category?
• How many new customers purchased?
• What is an average sized new order?
• How many customers stopped buying from in this period?
• How many customers are purchasing more-or-less in this period than previous periods?
• What is the trend of average-sized purchases for customers in each customer category?
• What is the average length of time between a first sale and a repeat sale?
• How many customer contacts were made by your sales reps for each customer?
• What is the rate of return of closed sales from targeted advertising efforts?
• What is the rate of returned products per customer sales?
•  How is the rate of returned products trending over the last few periods?
Each of the above questions should be followed by a why, how, when, who should research the data further, and by when?  And your sales professionals should be able to explain the answers to the above questions in a way that assures you they are fully engaged in managing their portfolio effectively on all fronts.
When revenue and overall income are strong many business leaders fail to be diligent in analyzing the critical foundation of information financial statement numbers are built upon.  It just feels good to be doing 'well'-according to the numbers.
But if close attention is not paid to the front line and behind the scene activities in a business, a strong growth market can bring a wave of easy-to-close sales so strong that the large number of dissatisfied customers who are not returning are spotted until the growth slows. Then the jolt can be shocking when goals are significantly missed because new sales dried up, and repeat sales had been disappearing for a long time.
Once I moved to a bustling community and was disappointed by the low quality of service from a business that by all appearances was robustly successful; this confused me. But when I observed longer, I realized most of their business was from new customers. It seemed they were churning customers more rapidly than they were building a strong customer base; new customers were not becoming long-term customers.
Perhaps the business leaders just didn't see beneath the summary numbers to the real story. When the economy slowed this business seemed to experience a faster fall and incurred a deeper toll than if they had also been building lasting customer relationships.
If they had worked to evaluate the numbers more closely they might have realized the true trending source of sales revenue, avoided the undertow, and shored up their processes to buffer themselves from disappointment.
How often do you get beneath the surface of the periodic financial statements you receive?
Cheryl Kane, is a strategic business consultant, sales trainer, & professional speaker specializing in strategic planning and service quality. If you seek assistance in growing your business, need a business speaker, or have a topic you would like to see in this column, Cheryl welcomes your communication at email: [email protected].