May 12. By Dave Yochum. With billions of dollars on deposit in Cornelius and a continuous flow of new residents, it's only natural that a prominent bank plans to open another branch on West Catawba.
The second Fifth Third branch on West Catawba will open June 22 just west of Magnolia Estates Drive.
The current branch at 20301 W. Catawba next to The Shops at Fresh Market will remain open, according to Amber Darnell, Fifth Third spokesperson.
She said it's a "de novo, open concept" branch without tellers per se.
De novo means "from the new" in Latin. For Fifth Third, the new concept in branch banking means no tellers; each associate is a personal banker capable of almost any kind of transaction.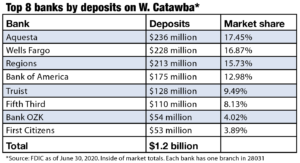 The two Fifth Third branches will be only a mile apart.
New branches mean new deposits and there are plenty to be had in Cornelius.
Chase Bank recently opened at Jetton and West Catawba on the site of the old Rite Aid building. Asheville-based HomeTrust Bank also plans to build a two-story, 7,000-square-foot branch near the intersection of West Catawba and Old Jetton.
"The Charlotte area is one of the top growth areas in the country.  Out-of-town banks are trying to take advantage of that growth," said Jim Engel, CEO of Aquesta Bank, the only bank headquartered in Cornelius.
Nationally known economist John Silvia said wealth is also flowing into Lake Norman in part because of the lake and its proximity to a growing city. "You don't have that in a lot of places," he said, calling it a "phenomenal positive" from an economic development point of view.
The demographics of people moving here are running toward higher income, many with two incomes.
"You're not bringing in a lot of the non-educated people. In-migration here is very different from the immigrants that grew cities like New York City generations ago," Silvia said.