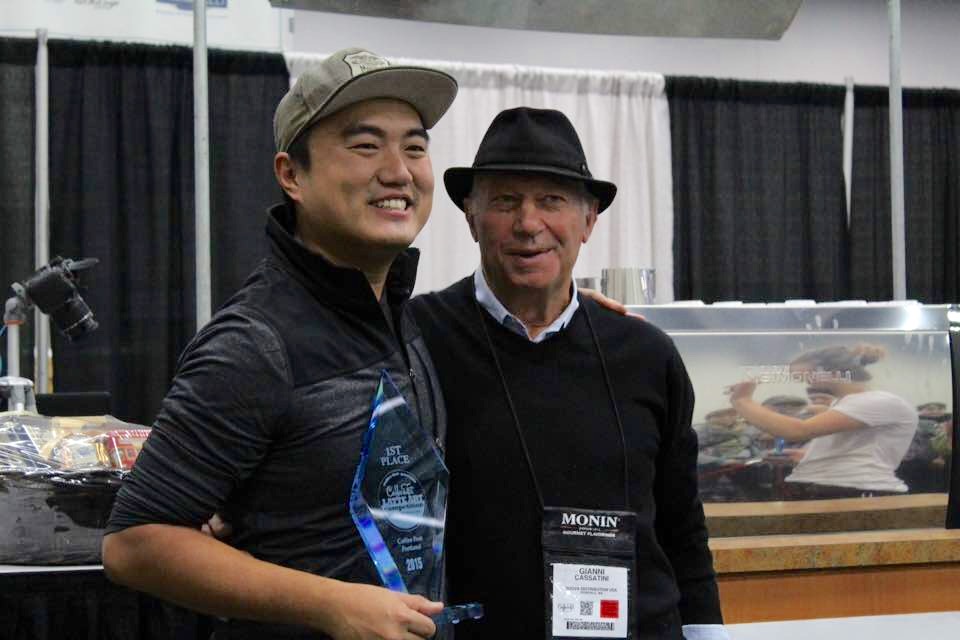 Steven Lim recently won the Coffee Fest Latte Art World Championship Open held in Portland, Ore. A process engineer at Concord-based S&D Coffee & Tea, he is a self-taught barista who learned the craft working nights and weekends. Lim competed against 63 people from around the world in the bracket competition.
The Portland Coffee Fest Latte Art World Championship Open was the last of three regional gatherings in 2015. In this format, two competitors have three minutes to free pour a drink for the judges, using no tools or powders. Entrants' lattes are judged on five categories: Aesthetics, definition, color infusion, degree of difficulty and creativity and speed. The individual receiving the higher score from the three judges moves on to the next stage of the competition — a total of six head-to-head rounds leading to a single winner.
"I think I speak for all of S&D when I say how proud we are to have Steven representing us in latte art competitions," said John Buckner, vice president of marketing for S&D. "Through his roles at S&D and as a barista, Steven sees the dynamics of the coffee industry ­first hand. This multifaceted approach, and his passion for coffee, benefits both S&D and our customers."
Lim brings more than 10 years of experience in the food and beverage industry. Prior to joining S&D, he served in the engineering departments of well-known consumer brands, such as General Mills, Yum! Brands and Pepperidge Farm. In his current role, Lim assists with capital engineering projects and the integration of R&D with manufacturing mechanics and procedures. The Portland event was his eighth latte art competition.