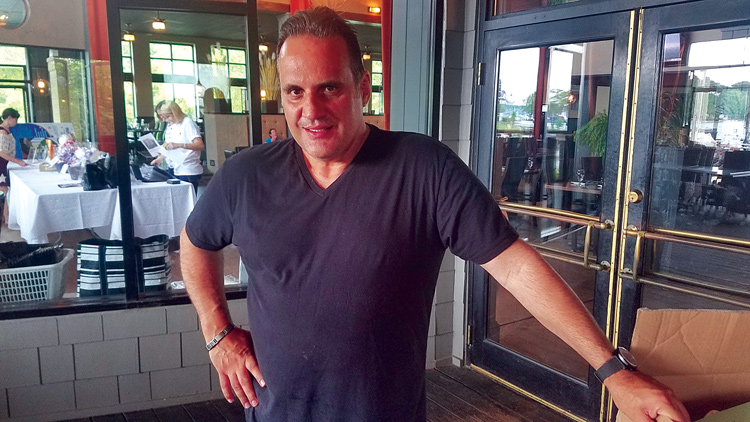 By Dave Vieser. When Midtown Sundries closed in Cornelius back in 2010, people wondered who could take over the 500 seat, 13,000 square foot eatery. Indeed, after Latitude 36 opened and closed, the building stood empty.
Then along came Nick Lyssikatos.
With his extremely successful Brickhouse Tavern going strong in Davidson, Lyssikatos, after a year of contemplation, decided that he was up for the challenge. So he purchased the property and in 2013, he opened Port City Club. Today, Lyssikatos has a very successful lakefront eatery under his command.
"It was a great location and a good investment, but it was also a challenge," Lyssikatos said. "The place was so big and had failed before, but it came along at the right time for me. I needed more space for patrons and events which I couldn't accommodate at the much smaller Brickhouse Tavern, which was overflowing."
His major goal was to establish a chef-driven restaurant and the creative, versatile concept seems to work. He has also hosted hundreds of private parties, many of them during the holidays. Businesses from Charlotte have found that lakeside Port City is a much better and more reasonable venue for their events than the well-known but more expensive eateries in the Queen City.
"We aim for a wide variety of fresh, quality food, consistently prepared when the order is taken at reasonable prices. Our menu selections appeal to the boater for a quick lunch or a nice relaxed meal with friends and family."
Port City features Certified Angus Beef, the upper 2/3 Choice which is more expensive, for steaks as well as hamburgers. They also fly in fresh seafood as often as they can get large quantities.
Is the combination working? Serving 1,500 and 2,000 people on a Friday or Saturday would seem to indicate that it is.
In the midst of his climb to success, the biggest obstacle has been staffing. It's a constant challenge for the restaurant industry. "We advertise for help from places like Johnson and Wales, and provide 2-4 weeks of training. Some make it, some don't. Keep in mind that Port City is three or four times larger than the normal 150-seat restaurant, and it takes a lot of people to run it: servers, bar and kitchen staff, among others."
Lyssikatos, 52, points to the concept of pacing seating as one of those 'behind the scenes' formulas which can make or break a restaurant. "We don't always fill all the tables at once in order to give the wait staff a chance to serve the customers they have and the kitchen a chance to cook items without being overwhelmed."
Another area where Lyssikatos has gone the extra mile is working with local non-profit charities and organizations. "We have found that when you support the community, the community supports you and spreads the word about your business. It's also rewarding to see the impact of money benefitting local organizations like when the Ada Jenkins Center is able to provide much needed food and services for the people in need and Big Day at the Lake lets young people have fun at the lake who may not otherwise get the chance. This is personally rewarding to me."
Nick lives in Waxhaw with his wife Nannette and their two grown twins: Elizabeth and Kostas. His favorite hobby is photography. In fact he does most of the food photography for his restaurants.
His work week is always seven days, splitting time between the two restaurants in Davidson and Cornelius. If there were weeks with eight days, those who know him jokingly say he would work the eighth day too. But that's always been Nick Lyssikatos' key to success: Hard work.