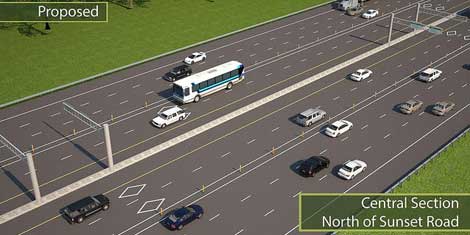 Kurt Naas, spokesman of the citizens group WidenI77, received the 2015 Citizen's Award from the N.C. Open Government Coalition at an event in Durham.
The N.C. Open Government Coalition works to unite organizations interested in ensuring and enhancing the public's access to government activity, records and meetings.
The laws that require openness in government are called Sunshine Laws; the program is part of Sunshine Week, a national initiative spearheaded by the American Society of News Editors to educate the public about the importance of open government and the dangers of excessive and unnecessary secrecy. The four awards presented were in the categories of advocacy, government, journalism, and citizen.
Naas made numerous public presentations on the results of his independent research into the private toll lane project proposed for I-77. The stretch of interstate through the Lake Norman region is already one of the most congested roads in N.C. but has never been widened since it was constructed in the 1970's. Naas predicted the project would ensure congestion and would result in tolls in the $6 to $10 range for a one-way trip.
As a citizen Naas requested information on the project from the N.C. Department of Transportation through the Freedom of Information Act. His request discovered a study that verified his research. The study estimated tolls on I-77 could be $20 or more for a round-trip during peak traffic and also projected commute times to nearly double by the year 2035.
Naas was nominated for the award by Doug Miller, Deputy City Editor of The Charlotte Observer.
"I'm honored, surprised and humbled by the recognition," Naas said. "I've been fortunate to work with a committed group of fellow citizens to help bring this wasteful project to light."
The group recently filed a lawsuit to stop the project.  The trial date is still pending.
About WidenI77.Org
WidenI77.Org is a 501(c)(3) dedicated to widening I-77 without tolls by educating the public and elected officials about the problems with tolls and by raising money to fund an ongoing legal challenge. The group believes toll lanes are an expensive non-solution that will negatively impact our local economy, increase congestion and unfairly burden drivers. To learn more please visit www.widenI77.org or contact us at [email protected].