Aug 24. The NC Office of State Human Resources invites state employees and the public to recognize the 49th anniversary of Women's Equality Day with a virtual program featuring Gloria Steinem, the renowned American journalist, political activist and leader in the global feminist movement.
YouTube conversation
Presented by the Diversity and Workforce Services Division, "A Conversation with Gloria Steinem: The State of Women," will be streamed live via YouTube from 1-2:30 p.m. Tuesday, Aug. 30. Register today to receive a reminder notification shortly before the event begins.
NC Department of Administration Secretary Pamela Cashwell will interview Steinem. It can be viewed live or  it will be available later for on-demand viewing at the YouTube link and at OSHR's Webinars on Demand page.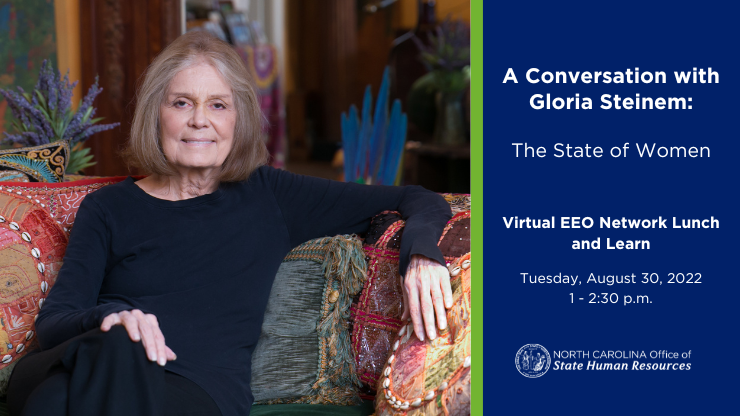 As Steinem, a 2019 recipient of the Presidential Medal of Freedom, famously remarked, "A feminist is anyone who recognizes the equality and full humanity of women and men."
Background
Steinem's trailblazing career began in the 1960s and '70s, as a founder of New York and Ms. magazines, the Feminist Majority Foundation, the National Women's Political Caucus and the Ms. Foundation for Women. Decades later, the still-outspoken advocate has continued to make significant contributions – writing books, producing documentaries, and supporting budding activists and organizations.