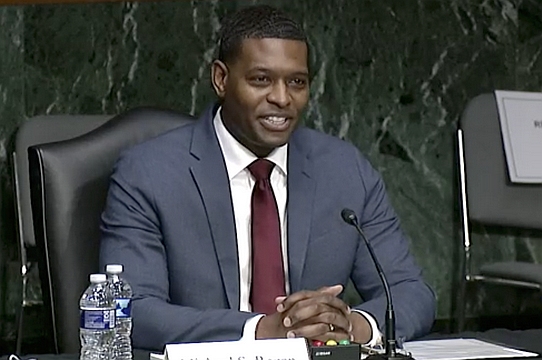 Feb. 5. By Lisa Sorg/NC Policy Watch. Several years ago, Michael Regan was giving his young son a bath when he remembered a conversation with Amy Brown.
Brown, the mother of two young boys, lived near the Allen coal-fired power plant and had been depending on bottled water for hundreds of days because her drinking water had become contaminated.
"I looked into eyes of Amy Brown as she told me she had not let her sons play in the bathtub or pool" because of the contamination, Regan told the U.S. Senate Committee on Environment and Public Works.
That experience resonated with him as he forged a groundbreaking settlement with Duke Energy that required the company to excavate millions of tons of coal ash from their unlined ponds, a defining moment as North Carolina Secretary of the Environment.
Less than a month since President Biden nominated him to be EPA administrator, in part because of his record on coal ash, Regan faced tough questioning at his three-hour confirmation hearing about how he would lead an agency that has been defanged and defunded.
Following science
Although Regan's confirmation is likely, the committee's lines of questioning exposed political divisions about how to grapple with the climate crisis and environmental regulations, particularly as they relate to job loss.
Regan said he would "follow the science and follow the law," if confirmed, as well as focus on the climate crisis, drinking water and environmental justice.
Republican members transferred to Regan their discontent with President Biden's multiple executive orders, many of them suspending or rescinding Trump-era rules: The cancellation of the Keystone Pipeline, a halt on oil and gas drilling on federal lands, and the rejoining of the Paris Agreement on climate change. They were concerned that there aren't "green jobs" to replace the well-paying positions in the fossil fuel industry.
"You talk a lot about environmental justice and the economy," said Sen. Shelley Moore Capito, a Republican from West Virginia, whose economy has long centered on coal mining. "Where's the justice in poverty, homelessness and drug addiction that result from these particular policies?"
Meanwhile, Democrats queried Regan on how, if confirmed, he would strengthen environmental regulations to combat climate change, rebuild a demoralized agency and commit to environmental justice.
Build consensus
Regan, as he long has done in North Carolina, hewed to the center.
"I have a commitment to building consensus," Regan said in his opening statement. "If you want to address complex challenges see them from all sides and put yourself in other people's shoes."
In North Carolina, Regan lead his agency on the state's Climate Risk Assessment and Resilience Plan, and in carrying out the governor's executive order on clean energy.
Climate change
"We are facing a dire situation with climate change," Regan said. "The president has an aggressive agenda. I look forward to working with you so we're not leaving any community behind. We want to consult with your constituents so we can address climate change and create as many jobs as possible."
Perfluorinated compounds, also known as PFAS, are widespread in North Carolina's drinking water, and along with coal ash, have defined Regan's legacy here. Several other states have also encountered serious PFAS contamination.
Drinking water
Kirsten Gillibrand, a New York Democrat, asked Regan to enact a rule regulating toxics in drinking water. Some states have set their own drinking standards and recommendation for PFAS, but under the Trump administration there was little meaningful effort to establish strong regulations.
"The previous administration did not have sense of urgency," Gillibrand said.
Regan said that under his leadership the EPA would prioritize PFAS, climate change, collaboration with "all stakeholders," transparency and environmental justice.
Many Republicans were concerned about the Biden's plan to revisit several controversial rules including the Waters of the United States and the Clean Power Plan, that were undone under the Trump administration, both in the courts and at the EPA.
Agriculture
Many agricultural interests, especially in the Midwest and West, oppose the Waters of the United States rule. They claim that additions to the definition of streams and wetlands that are regulated under the Clean Water Act infringes on farming. However, ongoing agricultural uses and even timbering are specifically exempted from WOTUS rules.
Joni Ernst, an Iowa Republican, told Regan she was concerned about the rule's effects on her state's farmers.
"I would look at what our options are with the lingering concerns," Regan replied. "We want to provide certainty to the farming community, particularly small farmers.
"I would consult with the EPA's general counsel to understand where we are and what the options we have," Regan said. "How do we protect water quality while not overburdening our small farmers. I don't want litigation to stifle what we can accomplish as stakeholders."
Regan built much of his reputation in North Carolina on his commitment to environmental justice. He appointed the state's first Environmental Justice and Equity Advisory Committee to raise awareness and listen to the public about the disproportionate pollution burden borne by communities of color and low-income neighborhoods.
In the previous administration, the EPA's civil rights division was hollowed out.
NC Sen. Thom Tillis praised Regan both professionally and personally.
"I'm very disturbed," said Sen. Cory Booker, a New Jersey Democrat. "The amount of polluted water you drink and the air you breathe depends on the color of your skin. If confirmed, will you make reforming the EPA's civil rights decision a priority?"
"Environmental justice has been a major part of my career and is in my heart," Regan said. "I agree with you. I will do everything I can to make sure office of civil rights and every office is paying attention to EJ issues. … But we do need additional resources if we're to solve environmental justice and equity issues."
Sens. Richard Burr and Tillis supported Regan's nomination, which also has the support of more than 20 of the largest agricultural organizations in the country.
Click here for the NC Policy Watch web site.
About the author
—Lisa Sorg, Environmental Reporter, joined N.C. Policy Watch in July 2016. She covers environmental issues, including social justice, pollution, climate change and energy policy. Before joining the project, Lisa was the editor and an investigative reporter for INDY Week, covering the environment, housing and city government. She has been a journalist for 22 years, working at magazines, daily newspapers, digital media outlets and alternative newsweeklies. Email: [email protected]