It looks like home sales and home prices will rise faster than the national average here because of continuing in-migration. Indeed, Charlotte and parts of the South and Midwest will do better than other parts of the country because of affordability and appeal to a younger set of buyers.
It all bodes well for the high end.
"Charlotte in-migration is largely professionals relocated here by companies…my guess is that the average transferred professional makes between $72,000 to $125,000 except for executives," said Pat Riley, president and CEO of Allen Tate.
Single-family home sales in the region are expected to increase by more than 10 percent next year.
Mecklenburg County, according to SmartAsset, a New York financial technology company, had the highest growth in local GDP in North Carolina over the past four years—$2.75 billion. No. 2 ranked Wake County grew by $2.5 billion.
In an interview with Business Today, Riley said he expects to see a "strong, steady increase in new and resale home sales at least through 2018."
But 2019 "may bring an inflation recession caused by the government raising rates to cool the economy."
Party like it's 2018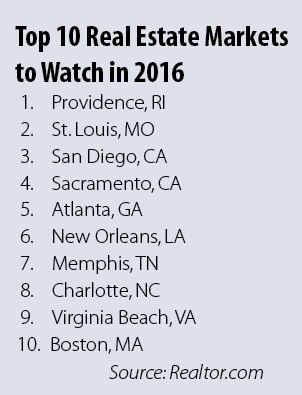 Charlotte's real estate market has fully bounced back from the recession. Meanwhile, there's a shortage of homes for sale in price points under $1 million.
According to a housing forecast this week from realtor.com, an online real estate database, Charlotte is No. 8 on the Top 10 real estate markets to watch in 2016, "where home buyers and sellers are the most motivated and active." Based on a statistical model that predicts home sales and prices, the top 10 markets are the most bullish in the country.
Single-family prices here should rise about 6.5 percent next year. "I'm very bullish on all price points due to our average per capita income, historically low interest rates and in-migration to the region," Riley said.
Lake Norman trends
Lake Norman is less and less a bedroom community for Charlotte, Riley said. "The commute is too far. Lake Norman is a destination for folks who work at home or commute needing an airport, or those who are retired or semi-retired."
Generally speaking, sellers in the upper brackets need to be patient. There is a 13-month supply of properties in Lake Norman listed at $750,000 to $1 million, according to Stephanie Gossett, Lake Norman branch leader/area manager for Allen Tate.
A balanced inventory is usually considered to be a 6- to 8-month supply of housing, she said.
There is a nine-month supply for properties priced from $1 million to $1.5 million.
There is a 31-month supply for properties priced from $1.5 million to $2 million, she said. That's up from a 19-month supply two years ago.
In Cabarrus
A house at 9385 Greathorn Lane has sold for $1.008 million after being listed at $999,000 by Miriam Peters of Charlotte-based Peters & Associates. The sprawling, castle-like home has a total of 7,019 square feet of space.  It has a two-story great room, second living quarters, a library and an exercise room. The listing says the house, on five acres, cost $1.8 million to build. It has an over-sized three-car garage. The tax value is $1.18 million. The selling agent was Amy Smith, of Keller Williams in Lake Norman
In Cornelius
A house with lake views at 19226 Stableford Lane in The Peninsula has sold for $835,000 after being listed at $875,000 by Anita Sabates of Allen Tate. The two-story traditional has three bedrooms and three full baths in a total of 3,776 square feet. A covered porch provides relaxing, year-round views of Lake Norman. Dixie Dean, also with Allen Tate, represented the buyers. The tax value is $519,700.
º    º   º
A 4,311 square foot, lakefront home at 20540 Bethelwood Lane has sold for $1.4 million after being listed at $1.55 million by Debbie Monroe of Lake Norman Realty. The four-bedroom, four-bath home has a three-car side load garage and an in-ground pool.  It sits on 1.5 acres and comes complete with a boat slip and pool house. The house was sold as is. The tax value was $1.36 million. The buyer represented themselves.
In Denver
A three-level lakefront home at 4137 Halyard Drive in the Norman Pointe subdivision has sold for $1.14 million after being listed at $1.24 million by Catherine Taylor and Jane Roddy of Allen Tate. The five-bedroom home, which was on the market 497 days, has a tax value of $1.19 million. It has furniture-quality built-ins, and a mini-kitchen, wine room and billiard room on the lake level. It has two covered terraces and a boat lift. Susan Patterson of Keller Williams represented the buyers.